Some of the most beautiful work of this craftsman, and many others, are in this book "Liège Gunmakers through their Work. 1800 - 1950".
For more detail see: LIEGE GUNMAKERS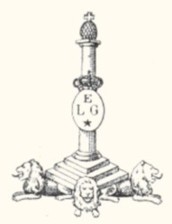 Ponsin
Belgian Flintlock Pistol Marked "Ponsin"
56 cal., 13 inch bbl., bright finish, walnut stock. 18th century Belgian flintlock with brass lock-plate and furniture. The pistol has a 13-inch, Damascus 56 caliber smoothbore barrel, pin-fastened walnut stock and brass furniture. The barrel is decorated with three relief ribs and silver damascene flowers and vines and two gold punches. The one readable has an Arabic inscription. The brass lock plate has an integral, fenced, four-sided pan and is decorated with engraved floral designs. The maker's name, "PONSIN" is engraved below the pan. Ailrid Poncin worked in Liege in the mid 18th Century. The buttcap, trigger guard and ramrod finials are brass. The pistol appears to have been re-stocked and the brass side plate escutcheons and plain walnut stock are probably 19th century replacements. The gooseneck hammer is a later replacement with a ring around the screw the only decoration.
Many thanks to "CWSLAGLEANTIQUES" for the pictures and the text.
The TOJHUSMUSEET of Copenhagen preserves under the heading 1291, a rifle of Danish officer with flintlock made in Liege. It carries to the gun the figure of the king Frederic IV (1699/1730) it lock is marked L.PONSIN. With bayonet with casing. About 1710.
The museum preserves under the n° B1450 a rifle of Danish infantry at flintlock allotted to PONSIN.
The Museum of weapons of Liège has a pair of pistols to one shot, caliber 16 mm and unrifled bore in white with band in relief over the entire length.
Lock convex signed M.PONSIN, with hammer with silver against-lock, swan neck very cut out.
Other trimmings "follows" decorated silver pommel from there mythological in relief and gilded characters.
Mounting length stock, rod out of wooden with end out of iron.
Manufacture of Liège beginning XVIIIe century.
Lengths: weapons 526 mm, barrel 350 mm - Weight 1 kg 100.
Ref.: Ej 49/071.
Asset in 1946 - collection RENKIN.
GG