Some of the most beautiful work of this craftsman, and many others, are in this book "Liège Gunmakers through their Work. 1800 - 1950".
For more detail see: LIEGE GUNMAKERS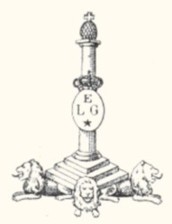 Gustave Prevost
Rifle known as "of garden" of gauge 22 of type FLOBERT.
The barrel octagonal is striped. It is provided with a front sight with ears and a bead to drift.
The extractor is of a rare model and it's certainly him which is the subject of the patent deposited by Gustave Prevost.
Indeed this extractor with cylinder is actuated by a pedal placed on the right side of the weapon.
While turning this pedal backwards, a small cylinder inserted beside the room and which, when it left, partially encroaches on this one so as to extract the casing by its pad.
Pushed back forwards, the pedal makes return the cylinder in its housing and releases the room thus allowing the loading of a news cartridge.
The hammer is flat of Flobert type with projecting rectangular striker.
Mounting is worked "with English" with a cheek on the left side.
The weapon carries the punches of the proofhouse of Liege, namely:
ELG on star in an oval: acceptance of use of 1846 to 1893.
R under star: countermark of the controller post 1877.
Period of manufacture: between 1877 and 1893.
Other markings are:
PREVOST BREVETE (PATENTS): it is about the mark of the inventor Gustave PREVOST, arquebusier and manufacturer of weapons in Liege street of the Gold Pot, 27. It was registered with the proofhouse of 1876 to 1899. From 1869 to 1899, it deposited ten Belgian patents of inventions including one with MARECHAL, Michel. He is also the purchaser of the patents ABADIE which he then yielded to Léonard SOLEIL.
DOZIN B (on the barrel): only an arms manufacturer DOZIN Mathieu arms manufacturer in Wandre is taken again with Who's Who Arms manufacture of Liège. In any assumption, it is about a subcontractor even of a manufacturer of barrel.
BD: idem above.
Number 1: it is perhaps about a serial number but its site under the barrel leaves me in the doubt.
GG