Some of the most beautiful work of this craftsman, and many others, are in this book "Liège Gunmakers through their Work. 1800 - 1950".
For more detail see: LIEGE GUNMAKERS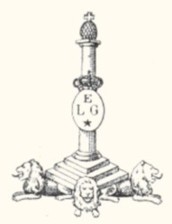 Puraye J-B
The weapon
It is about a revolver "bulldog"
The cylinder without grooves is with 5 shots.
The rifled bore is round with a front sight in half-moon.
The loading is practiced by the side door dropping thanks to the action of an internal spring.
Unloading is made room by room; using a rod sliding in a guide integrated into the console and is maintained by a small leaf spring.
The stick consists of two plates out of wooden (of walnut?) squared and maintained by a screw and two rivet washers out of brass.
Punches
This part carries the lawful punches of the proofhouse of Liege, namely:
ELG on star in an oval crowned: acceptance post 1893.
Coupled AB spangled: countermark of the controller post 1877.
R crowned: rifled bore, of use of 1894 to 1968.
The manufacturer
Mark JBP in an oval was unknown to date, it could belong to PURAYE J-B small manufacturer of SAINT weapons REMY (province of Liege) Active about 1903 and on whom we do not have more information.
BL is probably a mark of subcontractor.
GG