Some of the most beautiful work of this craftsman, and many others, are in this book "Liège Gunmakers through their Work. 1800 - 1950".
For more detail see: LIEGE GUNMAKERS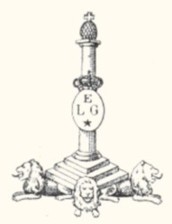 Hubert Remy
The weapon
Revolver of pocket says "Puppy" Lincoln to box frame and central percussion.
The barrel round is striped. It carries a front sight in half-moon.
The lock is not with rebounding hammer.
The trigger without trigger guard is folding under the carcass.
The cylinder with 5 rooms is grooved and of gauge 22 short.
The metal stick in nozzle of corbin is covered by two plates out of squared wooden joined together by a screw and two rivet washers.
The rod slides in a guide integrated into the console and is maintained by a small leaf spring.
The loading is practiced by a right side door dropping thanks to the action of an internal spring.
Punches
The weapon carries the lawful punches of the proofhouse of tests of Liege, namely:
ELG on star in a crowned oval: final acceptance post 1893.
W spangled: countermark of the controller post 1877.
R crowned: rifled bore, of use of 1894 to 1968.
Marks
L in a circle (on the console): mark of factory of CLOSSET Louis street Except Château, 74 in LIEGE, he was registered with the proofhouse of Liege of 1896 to 1921.
H REMY (on an amount of stick): mark of Hubert Remy arms manufacturer in Wandre registered with the proofhouse of Liege of 1884 to 1891. It is probably about the subcontractor.
Is the discordance of dates of activities probably explained by the fact why CLOSSET will have took again the goodwill of Hubert Remy?
GG