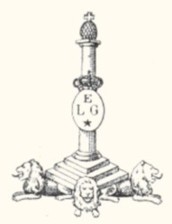 RAINKIN or RENKIN
Rainkin, Liège, circa 1800. Side-by-side smooth bore barrels in 12 mm calibre with remnants of gilt floral engraving above the chambers. Smooth flintlocks and frizzens with rollers.
The lock plates signed "Rainkin". Carved walnut stocks with iron fittings and ramrods. The trigger guards and butt caps engraved with martial trophies.
Length each 29 cm.
"Who's Who Belgian arms manufacture" speaks about a RENKIN (BE 1811/1836) which could extremely well correspond. The orthography, even of the proper names, was not the most important thing at the time.