Some of the most beautiful work of this craftsman, and many others, are in this book "Liège Gunmakers through their Work. 1800 - 1950".
For more detail see: LIEGE GUNMAKERS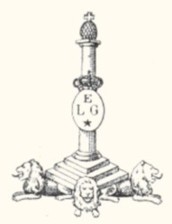 Alphonse Riga
Model: MONTENEGRIN
Manufacturer: Alphonse RIGA street Simonon, 22 in LIEGE. It was registered with the proofhouse of Liege of 1877 to 1886. He is also an author of 3 patents and agent of 13 trademarks.
Year of manufacture: after 1888.
Barrel round - crucible cast steel - screwed in the carcass.
Front sight: dovetail fixed rectangular blade.
Carcass: closed, semicircular rampart on the left, notch of starting on the right with door of loading opening transversely using an internal spring.
Trigger guard: of oval form, fixed at the carcass by two metal screws.
Trigger: curved and smooth
Hammer: with fixed striker and squared peak
Rod: metal, swivelling on an axis.
Stick: steel mounting making block with the carcass
Plates: two silver plated metal plates (?) squared, maintained in place by a through screw and two rivet washers.
Loading: by grooved cylindrical cylinder with 6 rooms
External protection: weapon bronzed black.
Punches: no punch of the proofhouse of Liege is visible on the photographs.
Markings
GASSER PATENT: mean that the weapon was patented by Léopold GASSER (Austria).
GUSS-STHAL: crucible cast steel.
Cross keys: ignored significance.
Eagle with the open wings surrounded of letters A.R.: mark deposited the 11.05.1888 by RIGA, Alphonse (see above).
S ...... MARKE:??
Appendix: page of catalogue A.RIGA presenting a Gasser revolver.
GG