Some of the most beautiful work of this craftsman, and many others, are in this book "Liège Gunmakers through their Work. 1800 - 1950".
For more detail see: LIEGE GUNMAKERS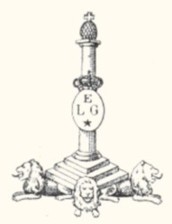 The Rissack dynasty
It should be known that our research is especially based on the study of the weapons old inhabitants of Liège, if in same time, we can obtain information on the life of these arms manufacturers of Liège, it is only so much better.
Thus about the RISSACK, "WHO'S WHO ARMS MANUFACTURE OF LIÈGE" gives us the following information:
RISACK M. Son of Cheratte. A patent in 1876 for an extractor of cartridge and closing applicable to rifles canes.
RISACK Mathieu, registered with the proofhouse of Liege of 1919 to 1920.
RISACK N.J of Hoignée (Cheratte) 1858 - Holder with DETILLOUX F of a patent for modifications with the closing of Lefaucheux rifles.
RISACK Nicolas de Feneur. In 1865, it deposits with DEVILLE Laurent, 2 patents for a pistol-revolver with double movement and a door to expel the metal cartridges.
RISACK-BAYARD Mathieu (BAYARD being most probably the name of his wife) manufacturer of weapons with Cheratte. From 1888 to 1913, it deposits eight patents concerning firearms.
RISSACK J.P. son of Herstal (Proofhouse 1863/1870). It deposits in 1863 a patent for additions with a system of closing of firearm taking care by the breech.
RISSACK Jean Jacques (BE 1850/1857). It deposits of 1847 to 1869, 22 patents for firearms. The Museum of weapons of Liege preserves several revolvers JJ RISSACK in various calibres like two revolvers Prosper MALHERBE & RISSACK.
RISSAK & GRISARD (BE 1857/1863)
RYSSACK & GERARD manufacturers of weapons with Herstal, without other information of time or place unfortunately.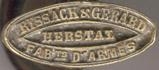 GG