Some of the most beautiful work of this craftsman, and many others, are in this book "Ličge Gunmakers through their Work. 1800 - 1950".
For more detail see: LIEGE GUNMAKERS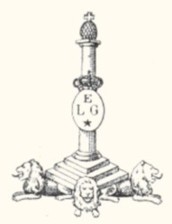 ROBOT & Cie
It is obviously about a folding rifle with snake key and with hollow stick of type Leclercq .It was manufactured thousands at the beginning of the 20° century. They were called "rifle of poacher".
It is the first time that I meet the mark ROBOT & C° LIEGE, I am unaware of thus the significance of it.
Perhaps is it about a sub-brand created to scramble the tracks?
In short, I classify this mark in the file "marks unknown" and we will see later.
GG