Some of the most beautiful work of this craftsman, and many others, are in this book "Liège Gunmakers through their Work. 1800 - 1950".
For more detail see: LIEGE GUNMAKERS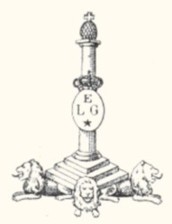 Jules Rosseel
Shotgun to juxtaposed unrifled bores, gauges of it 12, lock hammerless with double trigger, key of opening top lever, English stock in drowning.
Punches
Spangled ELG in a crowned oval: acceptance post 1893.
Perron: inspection port 1853.
Surmounted statement of a stylized lion: test with the powder without smoke, of use of 1898 to 1968;
U spangled: countermark of the controller post 1877;
EL in cursive letters: provisional test,¨post 1852.
Choke 18.4 - 18.3: chokés guns: cal. to 22 cm of the breech - of use of 1924 to 1968.
X into cursive: should be the yearly letter but I am unaware of the year of it.
12-70 in large C: gauge nominal and length of the casing, post 1924.
1Kg 394: weight of the gun which can draw from the powders without smoke (weapons smooth) except for the gram. Post 1924.
Markings
Jules ROSSEEL was an arms manufacturer with TILFF (Liege) street Bayfils, 12. He was registered with the proof house of Liege of 1932 to 1956 and is not thus any more in activity.
He recorded a patent in 1953 concerning a single mechanism of trigger and selector for rifle with 2 blows.
He made use of mark JR joined in a square.
POLDI NICKEL STEEL KLADNO JF + face of woman in an oval is a trade mark by Jean FALLA manufacturer of guns in Liege street New Bonne (see site).
GG