Some of the most beautiful work of this craftsman, and many others, are in this book "Liège Gunmakers through their Work. 1800 - 1950".
For more detail see: LIEGE GUNMAKERS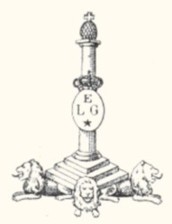 G. Rouhette
Flintlock pistol of voyage of the XVIIIe century, transformed with percussion towards half of the XIXe century.
Decoration, in particular it against-lock presenting a shell St Jacques locates the manufacture of the weapon under Louis XV!
The barrel with sides with the thunder becomes round to the profiled mouth.
Wood mounting of walnut carved is in nozzle of corbin with a brass cap presenting a grotesque mask. The lengthened trigger guard, also out of brass, is decorated with a beam of weapons.
The brass against-lock is openwork of arabesque and is maintained by 2 wood screws.
The rod is out of wood and is maintained by two master keys metal rods under the barrel.
The lock is marked name of manufacturer ROUHET G à LIEGE.
There actually was an arms manufacturer ROUHETTE G. in LIEGE during period 1730/1760 in the city of Liege. It is known only by the few weapons with his name in one or the other museum, in particular the museum of weapons of Liege (References MAL 8576 Ej 60 for a pistol to 2 superimposed loads of the surroundings of 1750)
Mark ROUHET crowned in a hollow cartouche belongs of course to this arms manufacturer.
GG