Some of the most beautiful work of this craftsman, and many others, are in this book "Liège Gunmakers through their Work. 1800 - 1950".
For more detail see: LIEGE GUNMAKERS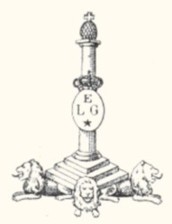 Rouma L.J.
This pistol is a large Lefaucheux-type with a very large 17mm bore - the bore is rifled, so I am not sure what pinfire cartridge was used with this.
Here is my information:
2-Barrel Lefaucheux-type pistol, break-open for loading
damascus barrels and good engraving on the side pieces and part under the barrels
interesting engraving on the grips
caliber: 17mm with rifled barrels
lengths: barrels 176 mm, overall 335 mm
marks: on bottom of barrel - JLR, crown/GM,
on top of barrels - Damas Anglais
Richard
This pistol with two rifled bores in English Damas is conceived for cartridges pinfire say you?
Extremely well but of gauge 17 mm? Could a gauge of hunting perhaps, nearest be gauge 16 is 16,8 mm??
The weapon is provided with two locks called "behind" and with a trigger guard to rest-finger.
The rocking of the barrels is done thanks to a small pedal placed under the barrels in front of the trigger guard.
You did not photograph markings; it is thus difficult for me to make me an opinion?
Could spangled GM be a countermark post 1877 of the controller of the proof house of Liege but where is the obligatory mark of acceptance??
JLR could be a marking of manufacturer.
Without much conviction, I propose nevertheless to you ROUMA L.J of Liege which deposits of 1861 to 1863 two patents for a system of firearm taking care by the breech and of the modifications made to closing of the firearms taking care by the breech.
Not having been able to consult these patents, it is difficult for me to say to you if they correspond to your weapon?
GG