Some of the most beautiful work of this craftsman, and many others, are in this book "Liège Gunmakers through their Work. 1800 - 1950".
For more detail see: LIEGE GUNMAKERS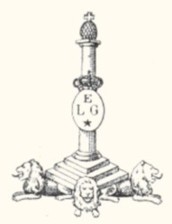 Roux Jacques
The weapon
It is about a revolver "Top Break" with closing of the type Smith & Wesson and with opening using a pedal placed at the rear of the console on the left side.
The cylinder with 6 shots (calibre not specified) is smooth with extractor out of star or ring (non visible on the photographs).
The barrel is octagonal with front sight semi oval.
The stick consists of two plates ebony, squared and fixed by a screw and two rivet washers out of brass. It ends in a ring of cap and its screw-pivot.
Punches
The weapon carries the lawful punches of the proofhouse of Liege, namely:
ELG on star in a vertical oval: final acceptance, of use of 1846 to 1893.
Z spangled: countermark of the controller post 1877.
Period of manufacture
As the punches of tests indicate it, this weapon was manufactured between 1877 and 1893.
The inventor
Mark H.COLLARD PATENTS struck the console belongs to the arms manufacturer Henri COLLARD with EVEGNEE. This one deposits in 1880, two Belgian patents for a system of closing applicable to the revolvers. This system of closing to a pedal was already visited by other arms manufacturers, it would be necessary to study each one of these patents to determine which with early product of this invention.
For lack of sufficient means of productions, COLLARD probably entrusted the mass production of its weapon to ROUX Jacques of Liege.
The manufacturer
Mark J.ROUX LIEGE is the trademark of the arms manufacturer ROUX Jacques of Liège who was registered with the proofhouse of Liege of 1872 to 1890. From 1840 to 1873, it deposited ten Belgian patents in the field of arms manufacture.
JD (on the barrel): It could perhaps be a question of the mark of the malleable steel founder Jules D'HEUR, 25 street of the Minors with Herstal.
GG