Some of the most beautiful work of this craftsman, and many others, are in this book "Liège Gunmakers through their Work. 1800 - 1950".
For more detail see: LIEGE GUNMAKERS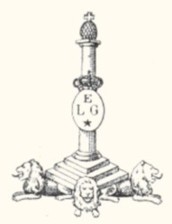 SCHOLBERG & GADET
Rue Vivegnis, 186 à Liège.
Registered with the proof house of Liège of 1861 to 1885.
Thanks to "Hallantique" for the pictures
Photos Littlegun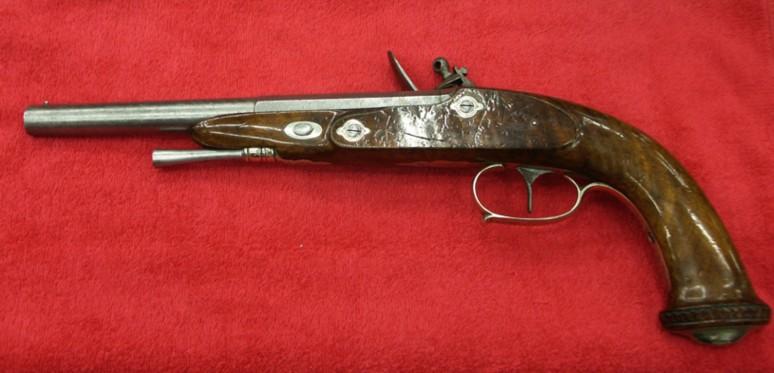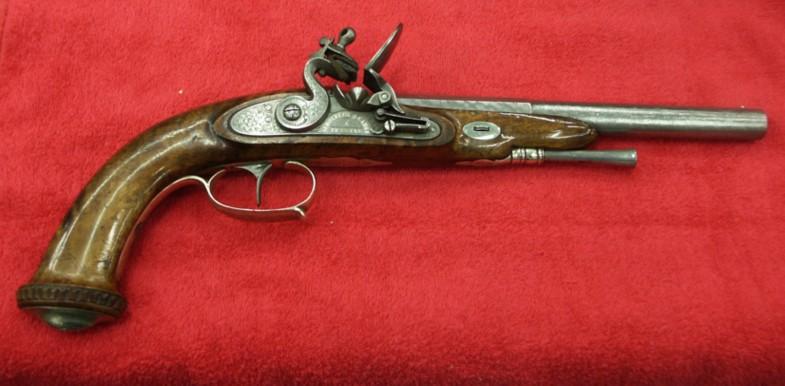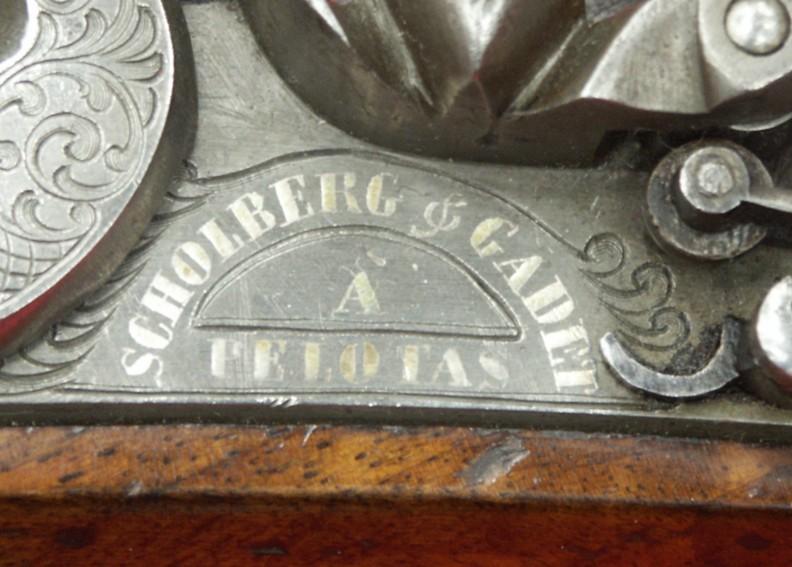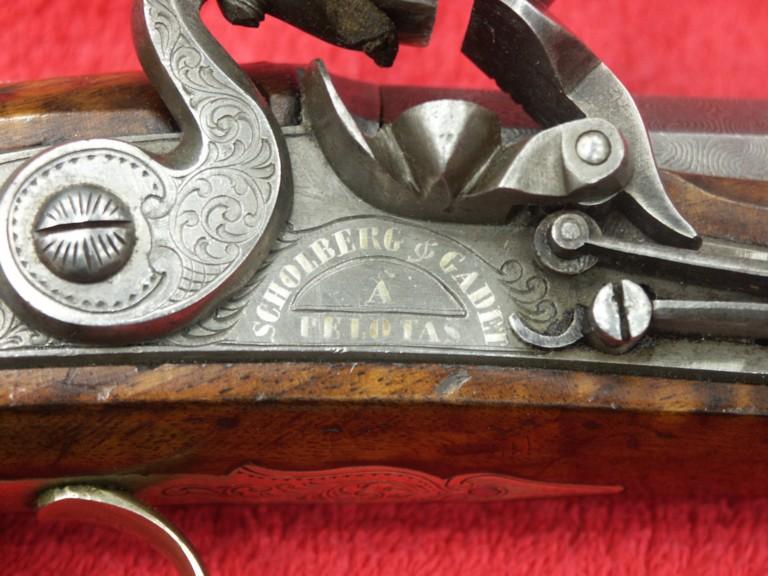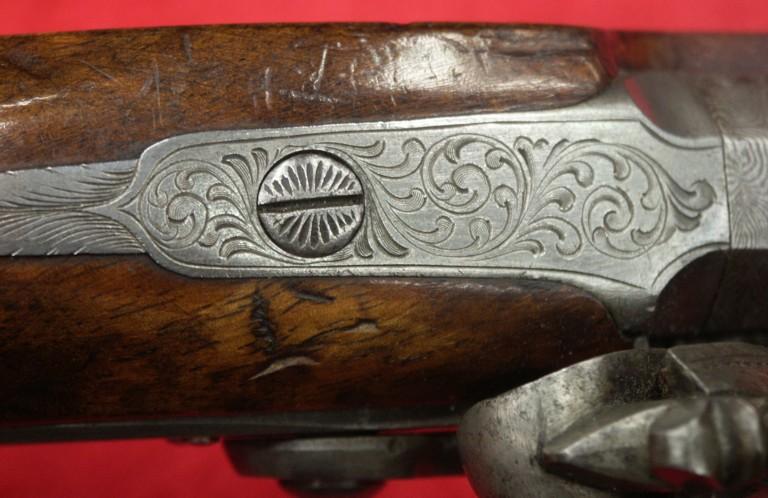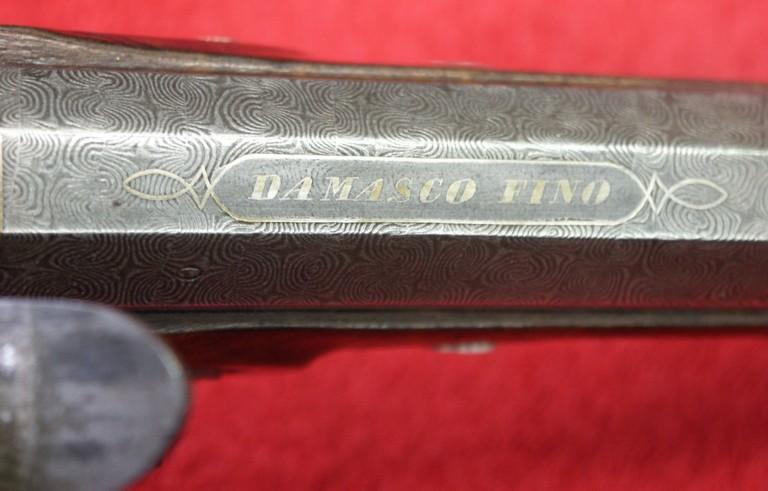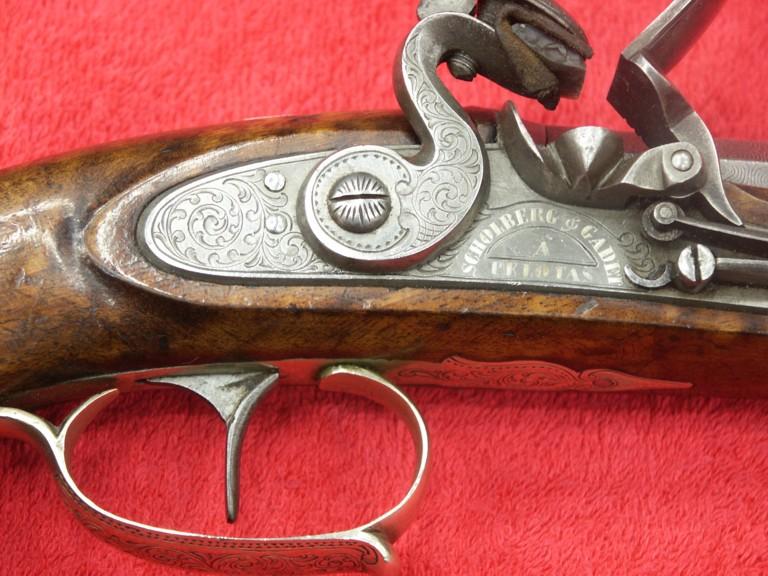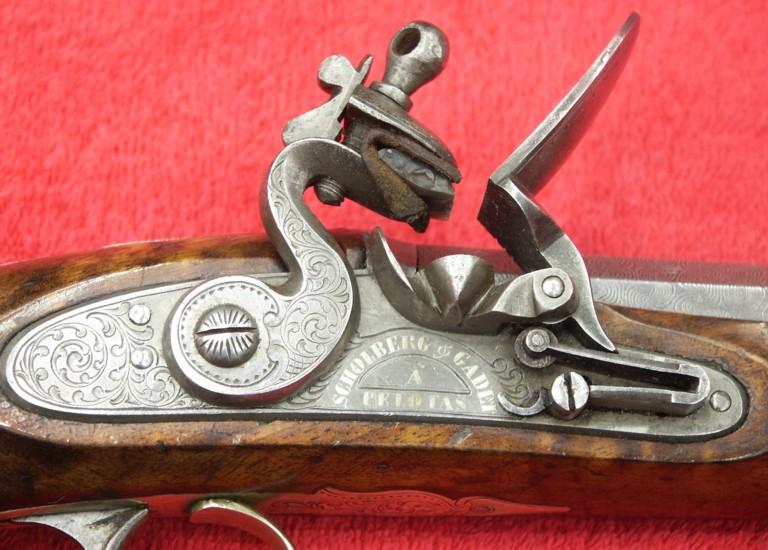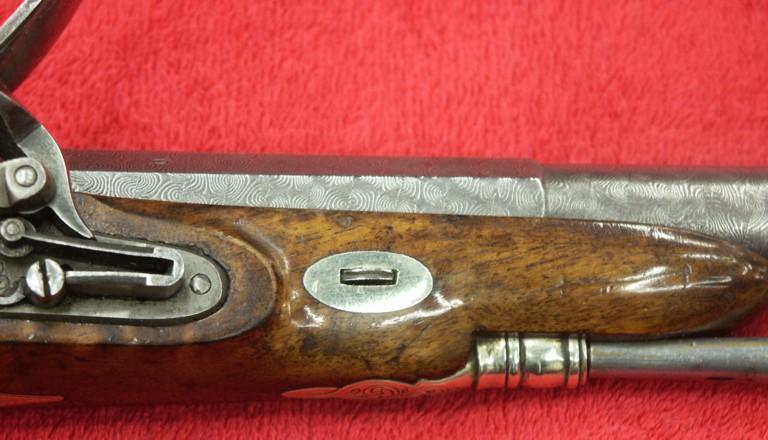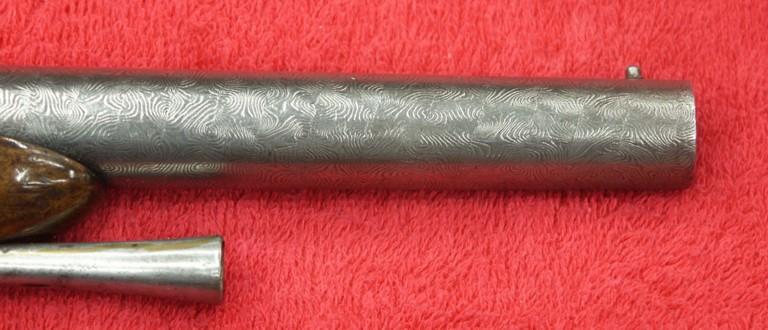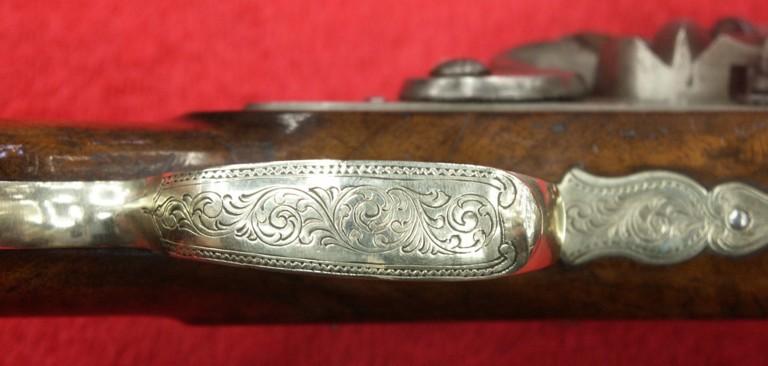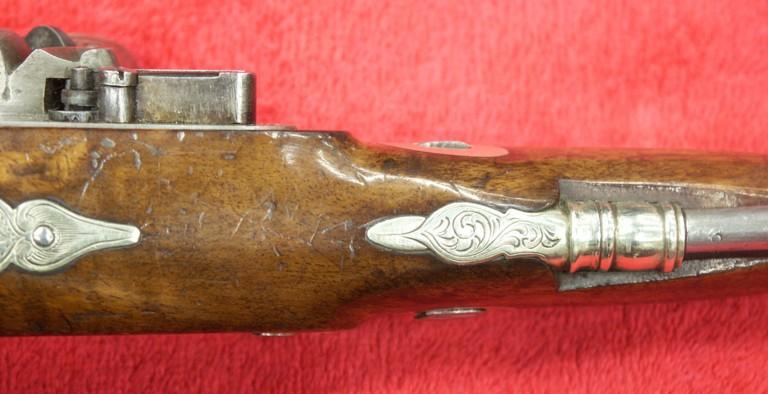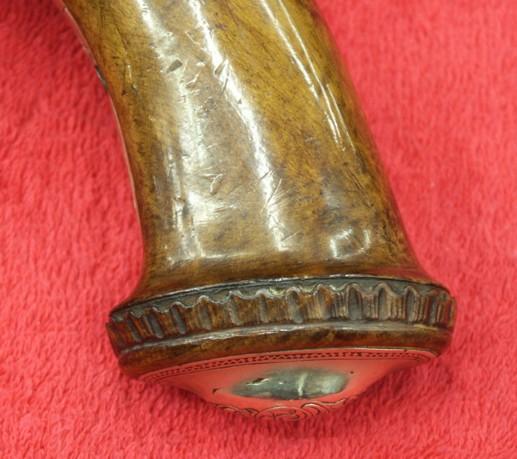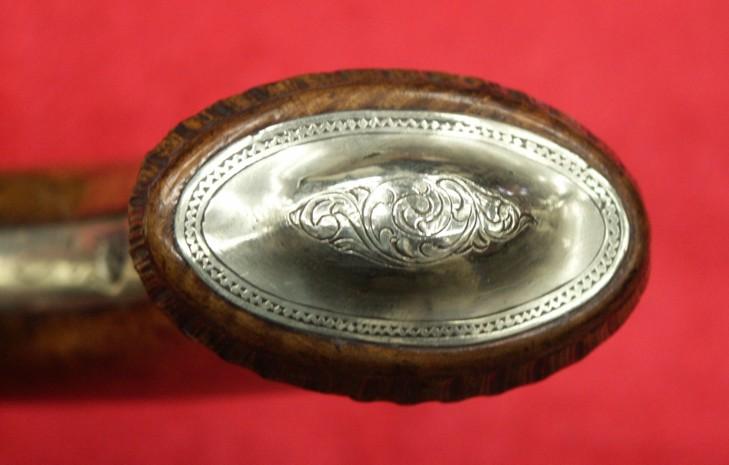 SCHOLBERG & GADET
Rue Vivegnis, 186 à Liège.
Registered with the proof house of Liège of 1861 to 1885.
Many thanks to Dave Young for the photos.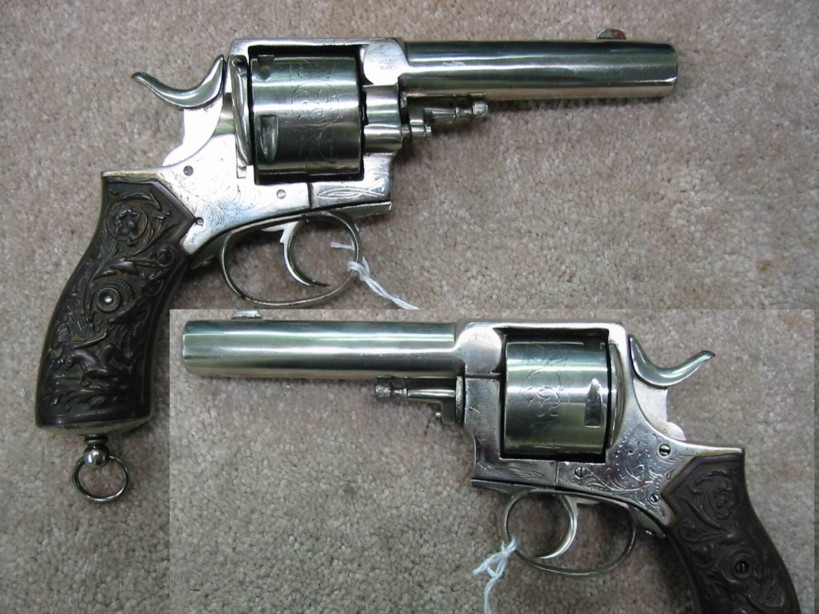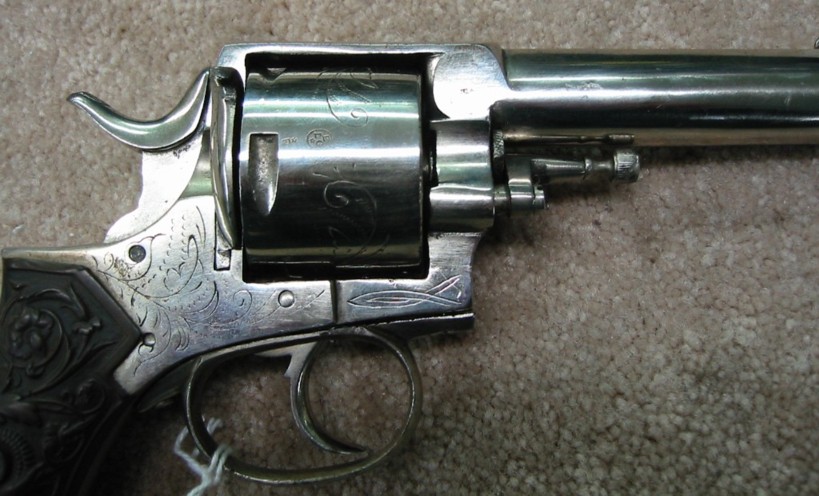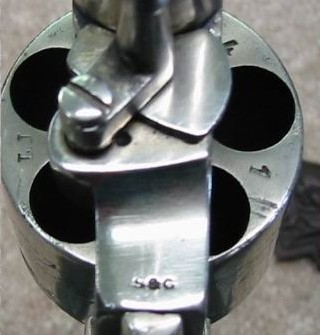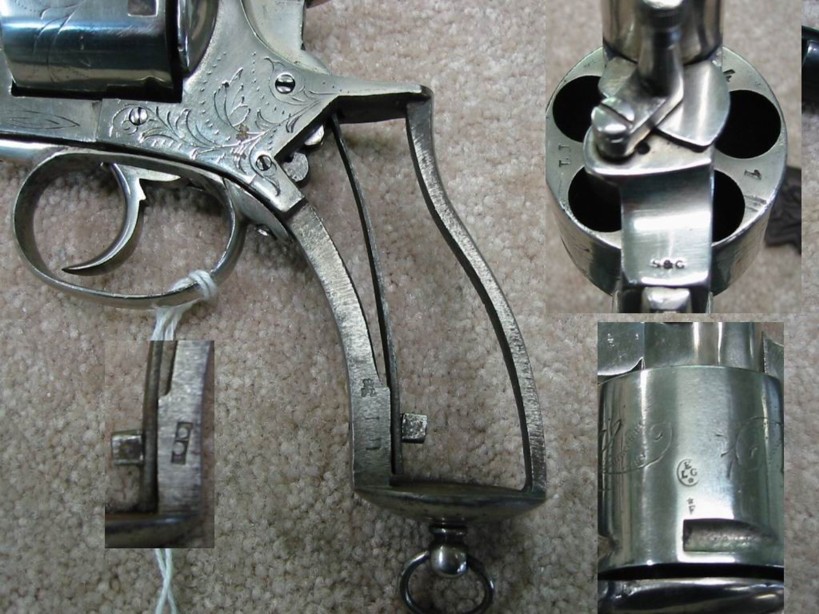 SCHOLBERG & GADET
Here are photos from a large double barrel pinfire pistol, Cal. 15 mm, rifled bores with 4 groove rifling, right hand twist. No readable markings under the barrel. Barrel length 194 mm, Total length 330 mm.
H.J.M.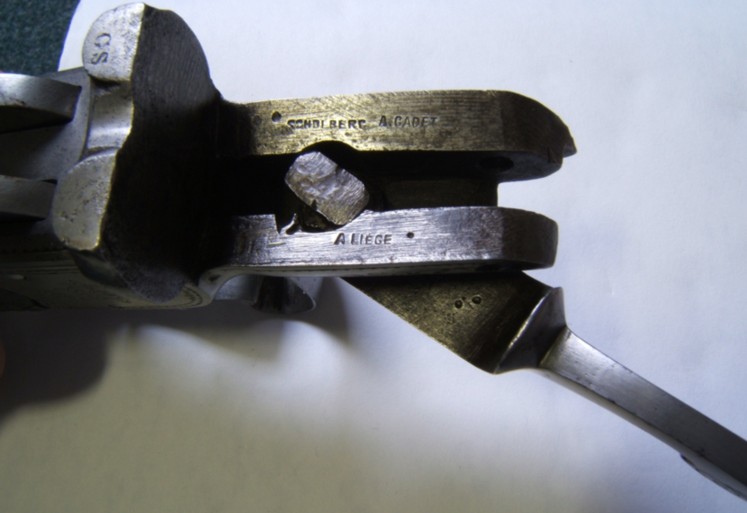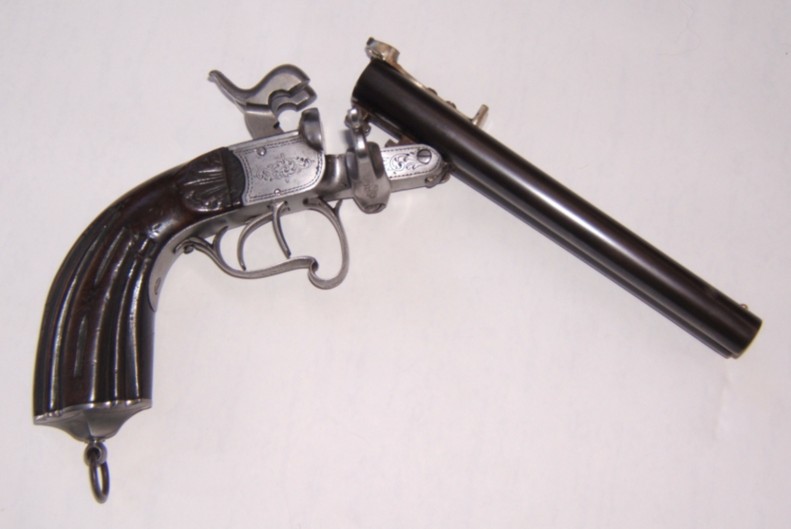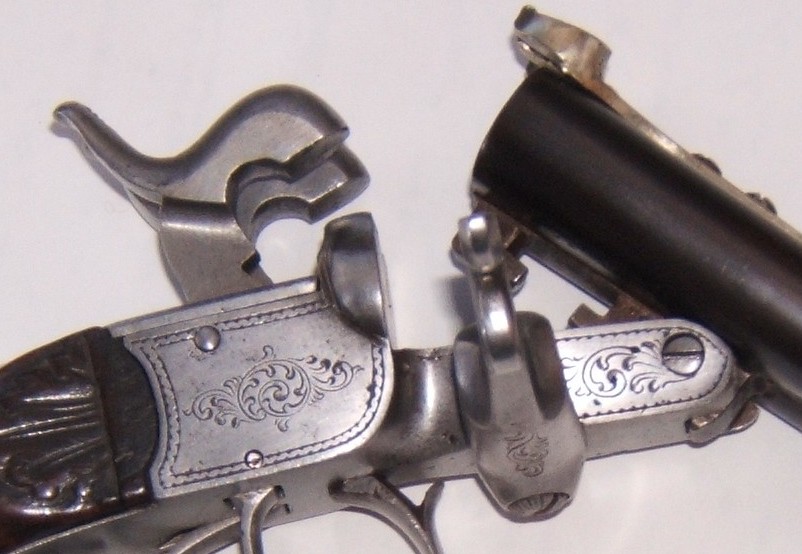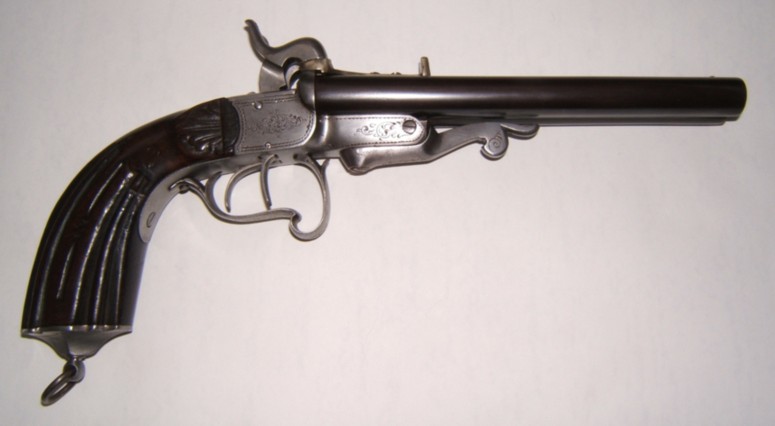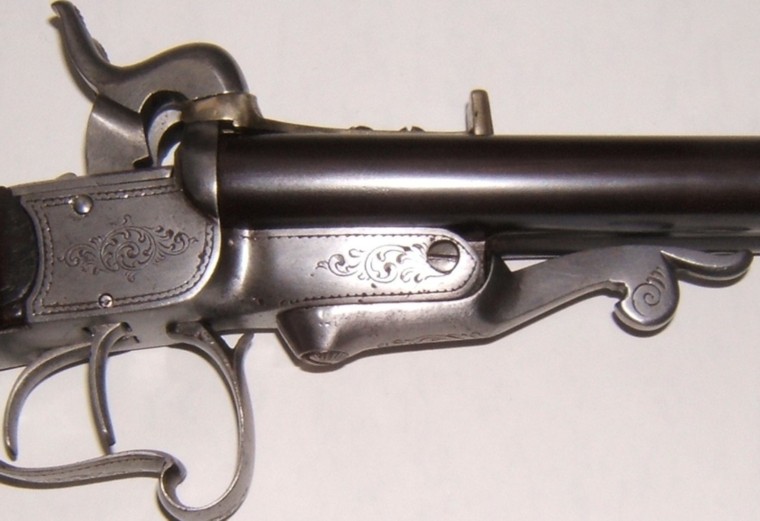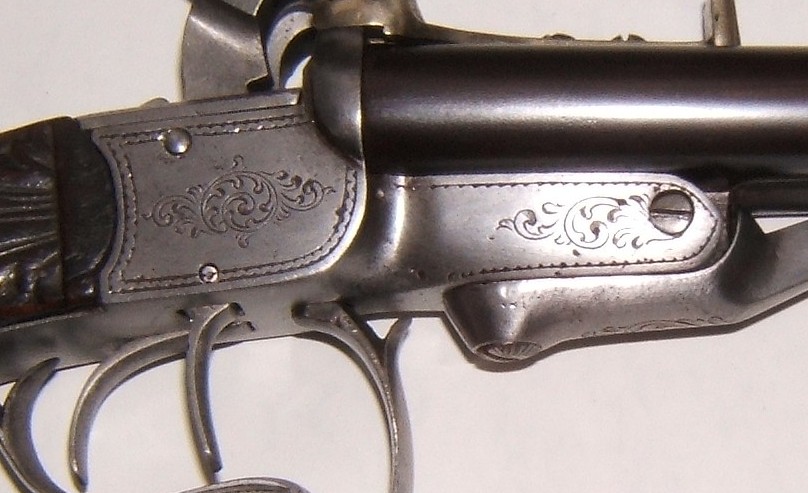 Scholberg & Gadet
Here is another two-barreled pistol with the sliding mechanism of the Smits system.
I have two questions:
1. Does the GS stand for Scholberg & Gadet? If so, then the local Broqua & Scholberg Company in Montevideo, Uruguay was probably supplied directly by Scholberg & Gadet with this and many other arms. Also, I can faintly see the marks behind the hammer on the pistol already on your site, and they are similar to the marks on this pistol. Since the marks look to be the same and the pistol is basically the same, it would seem to me that we have in both cases a Scholberg & Gadet manufactured pistol and there does not exist a "manufacturer" in Belgium with the name Broqua & Scholberg.
2. Would the number 857 after the DEPOSE be a serial number or the actual number of the patent which Scholberg & Gadet took out to build this pistol?
My information on the pistol:
Scholberg & Gadet 2-Barrel Sliding Mechanism Center-fire Pistol (Jamar-Smits design), cal 45 Eley (this is the cartridge I have that fits perfectly in the chamber - it may have been built for a similar cartridge of the same case dimensions), serial #857, barrels 6 1/4 inches, overall length 10 3/4 inches, marked "DEPOSE GS 857" on top behind hammers, marked "BROQUA & SCHOLBERG MONTEVIDEO" on top between barrels, star/AR and peron marked on both parts of slide mechanism, on bottom side of both barrels marked flowered EL (Black Powder proof), 11.2 and crown/R, Damascus barrels,
Thanks again for your great work.
Sincerely,
Richard
1) Yes I had already considered this possibility that SCHOLBERG and GADET were supplied out of weapons by the firm of Liège, it is the solution of the good direction! Unfortunately as it is the case in the majority of these small companies of manufacturers of weapons of Liège of the 19th century, the files disappeared! Then how to confirm our assumptions.
I think that the company S & G of MONTEVIDEO were a branch (a counter to some extent) created by the company of Liège and it is thus quite naturally that one provided the other.
It would be interesting to find the dates of existence of the firm of MONTEVIDEO in order to compare them with that of Liege. One has you it survived the other? With regard to your weapon, you identified it well and whom could I say moreover.
Its filiations of Liège are obvious since we find the punches of following proof house of Liège there:
EL in letters cursive: provisional test - 1852 until today.
R crowned: rifled bores - 1894 to 1968.
Mark GS is MOST probably the mark of the firm since on the site we see:
a) A revolver SCHOLBERG & GADET marked S.G. (SCHOLBERG G deposited 11 patents of 1885 to 1890- Maybe the explanation?)
b) A gun marked G.S.
The firm thus used the two versions but impossible to say according to which criterion.
2) A. Subject to checking, "GS" should mean "Guillaume Scholberg". This last indeed deposited several patents for devices of guns and revolvers. I unfortunately have "in store" only one patent of Guillaume Scholberg. My next research will relate to this family.
B. Scholberg and Gadet do not seem to me to have made patent something of this kind. But it will be also checked by consulting the 6 patents in question.
C. the Belgian patent n° 857 date of... 1855 and does not relate to the weapons.
D. The info that we have concerning Broqua & Scholberg seem to indicate that this house is after 1900, with mention until in the Belgian directory of 1924. That they had a subsidiary company in Uruguay was a current practice at the time, South America being a good outlet for rustic and exceeded weapons.
Cordially.
GG & MD