Some of the most beautiful work of this craftsman, and many others, are in this book "Liège Gunmakers through their Work. 1800 - 1950".
For more detail see: LIEGE GUNMAKERS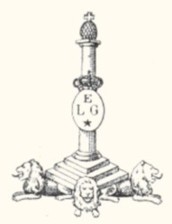 Selier
SELIER or SELIER or even De Sellier (the orthography was strong changing at the time) Philippe appears between 1693 and 1710 in Liege but the information on the activities of this arms manufacturer is very rare.
An arms manufacturer of Liège named De Sellier delivered in 1693, 30 rifles and 40 pairs of guns to the army of hanovre stationed in the Brabant (Belgian area close to Brussels).
De Selier Gilles is announced to us about 1720 and it is unfortunately all that we have on this character.
You will find in appendix the mark of SELIER Philippe.
GG