Some of the most beautiful work of this craftsman, and many others, are in this book "Liège Gunmakers through their Work. 1800 - 1950".
For more detail see: LIEGE GUNMAKERS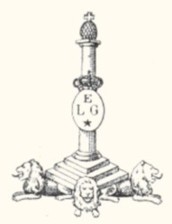 G. Smeets
The weapon
Shotgun to central percussion.
The barrels juxtaposed out of steel of gauge 12 are smooth.
Locks are of type "hammerless" with key "top lever" and safety with slide of the Galand type.
They are decorated with a fine engraving called "to bouquet".
Mounting is out of wood of walnut seem-you it (not very visible on the photographs) with English.
Punches
This weapon carries the lawful punches of the proofhouse of Liege, namely:
ELG on star in a crowned oval: final acceptance post 1893.
V and S spangled: countermarks of the controllers post 1877.
Peron: inspection, of use of 1853 to our days.
PV surmounted of a stylized lion: test with the powder without smoke, of use of 1898 to 1968.
12 C in a rhombus: gauge, of use of 1898 to 1924.
Small letter E: yearly letter of before 1924. This list would have been lost.
CHOKE 17.3/18.5 17.3/18.4: chokes barrels: calibre in mm to 22 cm of the breech and the mouth. In use of 1910 to 1924.
D = 70/20.6 m/m: length of the room in mm and diameter in mm after optional test with the powder without smoke. In use of 1892 to 1924.
P 1K340, 3: weight of the barrel which can draw from the powders without smoke (weapons smooth) Of use of 1892 to 1924.
Marks
On the barrels: a stylized fish containing letters J.J.H. This mark is unknown for us. It is probably about a mark of manufacturer of barrels of rifles.
On the barrels: ACIER INCORRIDIBLE HOLTZER, this grade of steel would have been deposited by Jules THONON street Fusch in Liege the 08.02.1912.
On the rocker: G.SMEETS, in all logic it should act of the name of the manufacturer, that is however not certain bus it exists that an arms manufacturer carrying this patronymic, is: SMEETS Eugene, manufacturer of weapons, street Chera 4 with Vottem and its mark PHOENIX ARMS.
Perhaps you it is then about a subcontractor (garnissor, walker, platinor etc….)
GG