Some of the most beautiful work of this craftsman, and many others, are in this book "Liège Gunmakers through their Work. 1800 - 1950".
For more detail see: LIEGE GUNMAKERS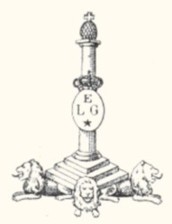 STIENON Henri
It's a rifle with round flintlock "TO the Frenchwoman" with a hammer with swan neck and a curious protection system of the small basin probably acting as fire wall?
The lock is engraved STIENON A LIEGE in capital letters.
The round barrel is maintained with the mouth by one to embouchure with two bands and two bracelets. The metal rod is with cylindrical end.
The support of screw is a simple S reversed without decoration.
The metal end plate is on long return.
The stick in drowning is with cylindrical collets and high peak.
Henri STIENON was a merchant and goldsmith in Liege of 1789 to 1813. He was a contractor of the "Manufacture des platines identiques" installed of 1804 to 1807 with the convent from Dominican in Liege. The company went bankrupt in 1807.
GG
Photos Littlegun