Some of the most beautiful work of this craftsman, and many others, are in this book "Liège Gunmakers through their Work. 1800 - 1950".
For more detail see: LIEGE GUNMAKERS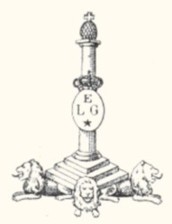 J. STREELS & C°
For little that the two photographs allow it to me, I then to say that it is about a double shotgun to percussion (loading by the mouth).
The stick out of wooden of walnut is carved "with the French" but the subject is not discernible on the photograph.
The barrels carry the punches of the proofhouse of Liege, namely:
Spangled ELG in a vertical oval: final acceptance, of use of 1846 to 1893.
V crowned: countermark of the controller, of use of 1853 to 1877 (what gives us already a period of manufacture).
Peron: inspection, of use of 1853 to our days.
EL in English letters: provisional test, of use of 1852 to our days.
Moreover, we notice the mention J. STREELS & C° which corresponds to the manufacturer of Liège STREELS J & Co street Sœurs De Hasque n°16 in LIEGE. It was registered with the proofhouse of 1875 to 1881. (Which still recuts the period of manufacture).
GG