Some of the most beautiful work of this craftsman, and many others, are in this book "Liège Gunmakers through their Work. 1800 - 1950".
For more detail see: LIEGE GUNMAKERS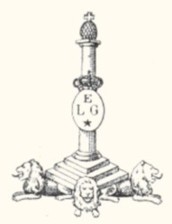 Otto Tanner
The weapon
Shotgun to Damas barrels smooth juxtaposed.
The hammers are hidden in what one can probably name the system TANNER but in the absence of patent and without handling the weapon, it is difficult for me to describe it.
The stick out of wooden of walnut (?) is "with cheek".
The system of opening is consisted of the same system as system LEFAUCHEUX but the key, instead of being placed on the front of the rocker, is under the trigger guard.
This system is as solid as the precedent but with the advantage of being more convenient to operate.
Punches
The punches are very few and seem to come from the proofhouse of Liege, namely:
EL in English letters: provisional test, of use of 1852 to our days.
17, 6: it could acts of the gauge of the weapon in mm (16 gauge??)
The inventor/manufacturer
Here what the new STOECKEL says to us:
TANNER Carl Daniel (1791-1858) It melts his company in 1827 and becomes the arms manufacturer of King de Hanovre and the Duke of Brunswink in 1829.
C.D. TANNER & Sohn, it acts of Carl Daniel TANNER and Son (1 Son HERMANN 1818-1877). After the death of the founder in 1858, all the son (3) form the firm TANNER & Söhne.
One of son is Ernst Heinrich Daniel TANNER (1842/1912) will direct the branch and manufactures weapons TANNER in LIEGE. It was registered with the proofhouse of 1857 to 1871)
The last son was Ferdinand TANNER (1825/1885)
The present weapon is signed Otto TANNER with LIEGNITZ (??) and this system little running would be a SYSTEM V. TANNER. I don't have any documentation on these the last two characters.
LIEGNITZ is a city of the south-west of Poland in Low Silesia, it remained German until 1918.
GG