Some of the most beautiful work of this craftsman, and many others, are in this book "Liège Gunmakers through their Work. 1800 - 1950".
For more detail see: LIEGE GUNMAKERS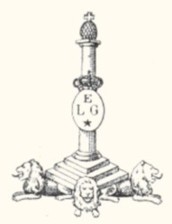 Thirifays & Cie
Shotgun to central percussion and external hammers. The Damas barrels are smooth and juxtaposed. The opening is practiced using the key "Top lever" placed between the hammers.
The locks called "ahead" carry a floral engraving in rosettes.
The stick out of wooden of walnut is worked "with English" although it is not completely visible on the photographs.
This weapon carries the lawful punches of the proofhouse of Liege, namely:
ELG * in a vertical oval: final acceptance of use of 1846 to 1893.
Peron: inspection post 1853 at our days.
NOT FOR BALL: chokes unrifled bores, of use of 1878 to 1897.
M* and I*: countermarks of the controllers post 1877.
17.4 - 18.2: chokes unrifled bores, of use of 1898 to 1910.
Other markings are:
THIRIFAYS (read so well because photo fuzzy): it is about arms manufacturer THIRIFAYS & Co street Vivegnis, 190 in LIEGE, registered with the proofhouse of 1902 to 1906.
GG
Thanks to Epimenidis Platsidakis, of fineguns.gr for the pictures.