Some of the most beautiful work of this craftsman, and many others, are in this book "Liège Gunmakers through their Work. 1800 - 1950".
For more detail see: LIEGE GUNMAKERS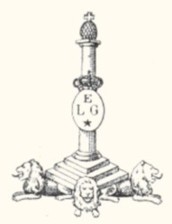 Tholet
The weapon
It acts of a revolver of the type BULLDOG, grips in ripping iron in gutta-percha molded - 9 mm central fire - 6 shots.
Curiously the handlebar in half-moon is at half-barrel for the good reason which it acts of a weapon intended for export towards South America where the short weapons were prohibited.
The border crossed without administrative obstacle, it was easy to bring back the gun to the desired length.
Punches
They are those of the proof test of Liege, namely:
Spangled ELG in an oval: acceptance of the test, of use of 1846 to 1893.
R crowned: rifled bore, of use of 1894 to 1868.
W spangled: countermark of the controller, of use of 1877 to 1968.
The manufacturer
THOLET Joseph and Co was registered with the proof tests of Liege of 1886 to 1900.
Retailer (?)
Does mark JA & C are unknown for me, perhaps act of a bad reading following wear and perhaps for the bad general state of the weapon, it would be necessary to read JF & C? It would act then of JANSSEN Fils & Co Street Lambert the Stammered, 4 in Liege, tradesmen out of weapons (BE 1895/1951) which would have exported this weapon towards South America, very current thing at the time.
GG