Some of the most beautiful work of this craftsman, and many others, are in this book "Liège Gunmakers through their Work. 1800 - 1950".
For more detail see: LIEGE GUNMAKERS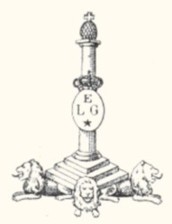 Joseph Thonon & Fils
As regards this weapon that was not easy, the photographs represent a combat of minors in a tunnel in my opinion.
In short it is about a rifle with two guns in table with lock hammerless and key top lever.
I could decipher the punches of the tests house of Liege following:
EL in cursive letters: provisional test, of use since 1852.
1Kg 359 - 1Kg 351: weight of the barrel which can draw from the powders without smoke (arms smooth) to the gram.In use since 1924.
Spangled ELG in a crowned oval - acceptance post 1893.
AC (?) spangled: countermark of the controller post 1877.
PV surmounted of a stylized lion: test with the powder without smoke, of use of 1898 to 1968.
CHOKE 18.3: chokés guns: cal. to 22 cm of the breech, of use of 1924 to 1968.
Large C and illegible figures inside: (12-70?) gauge nominal and length of the casing. In use since 1924.
6815: job number.
Mark in cursive letters: it is unknown for me.
The mark Jos. THONON in Liege east of course that of the manufacturer and the eagle with the open nozzle could not be examined (illegible)
The mark of which sent you to me a drawing is that of "Thonon Joseph et Fils". (See photo joined)
GG