Some of the most beautiful work of this craftsman, and many others, are in this book "Liège Gunmakers through their Work. 1800 - 1950".
For more detail see: LIEGE GUNMAKERS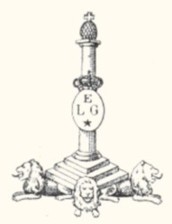 Jules THONON
The weapon
It is about a shotgun doubles hammerless. The barrels of gauge 12 are juxtaposed. Locks are of type "ahead". The key of opening is "Top Lever". Engraving is of type "rosasse". The stick out of wooden of walnut is cut way "Pistol" with rubber buttplate and part of inch. The forearm is with push rod.
Punches
The weapon is struck lawful punches of the proofhouse of LIEGE, the bad quality of the photographs did not enable me to raise them all. It is thus about:
ELG on star in a crowned oval: final acceptance post 1893.
V and X spangled: countermarks of the controllers post 1877.
Peron: inspection post 1853.
PV surmounted of a stylized lion: test with the powder without smoke, of use of 1898 to 1968.
12 C in a rhombus (read so well): gauge, of use of 1898 to 1924.
Markings
STEEL COCKERILL: steel having been used for manufacture of the barrels and coming from the steel-works John COCKERILL with SERAING-LIEGE.
6057: serial number.
Jules THONON manufacturer in LIEGE: manufacturer of the weapon is Jules THONON street Fush, 28 in LIEGE. He was registered with the proofhouse of 1908 to 1925. In 1925, it joins DUCHATEAU, Jean.
…. (illegible). Arms BARCELONA?: Most probably the Spanish retailer of the weapon.
Period of manufacture: information above, it seems that the weapon was manufactured between 1908 and 1924.
GG