Some of the most beautiful work of this craftsman, and many others, are in this book "Liège Gunmakers through their Work. 1800 - 1950".
For more detail see: LIEGE GUNMAKERS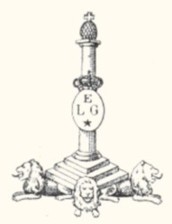 Thomas Thonon
The weapon
Pistol flintlock with black powder.
The lock is round "with the Frenchwoman" and bears the name of its manufacturer.
The hammer is of type "swan neck" with greenhouse-stone notched.
The barrel fixed "at drawer" is with sides with the round thunder then to the mouth. Its gauge was not communicated.
The trigger is smooth and slightly curved; it is protected by the trigger guard.
The rod is out of wood with end of horn. It is fixed under the barrel by a pass-rod.
The counter lock is fixed by two wood screws.
The stick out of wood of walnut finishing in nozzle of Corbin is very nicely decorated with metal subjects (silver?) representing a cherub with trumpet, a horn of plenty and various volutes.
Punches
The weapon doesn't carry any punch of tests, this one not being obligatory in the first part of the XIX century in Liege.
The manufacturer
Jarlier announces us a THONON Thomas and Nicolas in Liege between 1830 and 1840.
Polain, Jules announces us a THONON Frères street SAINT LAURENT, 278 in LIEGE and a THONON Joseph street Henckart, 2 in Liege.
GG
According to the style of the gun (lock… against-lock and the shape of the stick, it would act of Thomas Thonon, 1748-9-1811) this weapon was probably produced under the reign of Louis XVI. (Reference Stöckel P 1284).
Decoration in incrustation of engraved silver plates: marine monsters, horns of plenty is very antiquated because it was about a type of decoration which one carried out about the years 1660-70 in France… but in Liege… one was not afraid of the archaisms….
André