Some of the most beautiful work of this craftsman, and many others, are in this book "Liège Gunmakers through their Work. 1800 - 1950".
For more detail see: LIEGE GUNMAKERS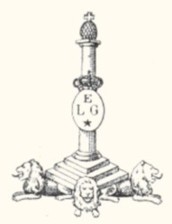 Umé Florent
They are in all probability round locks called "ahead" to three pillars and percussion, of a shotgun dating from half of the 19th century.
They are covered with a fine rather simple engraving of type "arabesque".
UMé, Florent was a harquebusier (French termination) arms manufacturer in Liege. It was registered with the registers of the manufacturers of the proofhouse of Liege first once of 1856 to 1861.
The company then took the corporate name of UMé Florent & Cie of 1861 to 1869 for then becoming again company UMé Florent of 1869 to 1898.
He deposited a Belgian patent in 1888 for an apparatus for the single loading of the cartridges of hunting.
In 1898, the company was taken again by DONCKIER, Marcel.
GG