Some of the most beautiful work of this craftsman, and many others, are in this book "Liège Gunmakers through their Work. 1800 - 1950".
For more detail see: LIEGE GUNMAKERS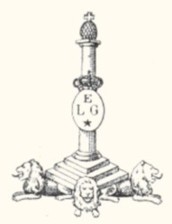 Verney Caron
With of not doubting a beautiful and quality shotgun of Liège manufacture.
Description of the weapon
- The barrels are juxtaposed, smooth, out of steel, of gauge 12 (casings of 70 mm).
- Locks are of hammerless type, opening by key "Top lever" and safety with slide of the type GALAND on the tail of breech.
- The stick out of wooden of walnut is worked "with English".
- The forearm is of type with button.
- Engraving with English is said "to bouquets".
Punches of tests
The weapon carries the punches of the proofhouse of Liege, namely:
ELG on star in an oval under crown: final acceptance post 1893.
T under star: countermark of the controller post 1877.
EL in English letters: provisional test, of use of 1852 to our days.
12-70 in an omega lying: gauge nominal and length of the casing, of use of 1924 to our days.
PV surmounted of a stylized lion: test with the powder without smoke, of use of 1898 to 1968.
1Kg 356: weight of the barrel which can draw from the powders without smoke (weapons smooth) to the gram near. In use of 1924 to our days.
Choke 18,4 - 18,3: chokes barrels: calibre to 22 cm of the breech. In use of 1924 to 1968.
c: yearly letter (c lower-case underlined) of 1964.
Peron: inspection post 1853.
Markings
Mark VERNEY CARRON LIEGE damascened with the fine gold on the tape separating the barrels is not at all the mark of the manufacturer but well that of the retailer. It was not rare at the time the large and small French manufacturers come to LIEGE to buy there weapons of quality and a modest cost price. What could be easier then to add its mark and to present the weapon to it at the sale with a prestigious signature?
This company was registered with the proofhouse of Liège of 1924 to 1929 to be then taken again in 1929 by CORDY, Antoine.
The mark SIEMENS MARTIN STEEL FALLA PATEND BRAZING is the grade of steel used by the barrel factory of rifles JEAN FALLA, 35 street New Bonne in LIEGE.
This company made use of disagreements steels for its guns as Compressed Steel CAPE JF, Nickel Compound CAPE JF and POLDI Electro Steel Kladno JF inter alia.
(See the card Jean Falla on our site).
B 394: in all logic the serial number.
Mark EB belongs according to me to establishments BRITTE to Vivegnis (see the site)
Figure 2 damascened with the fine gold states indeed that it is about the number 2 of an unfortunately odd pair.
I could not decipher the mark struck with the thunder of the barrels, it perhaps acts of a mark of FALLA but without certainty.
GG