Some of the most beautiful work of this craftsman, and many others, are in this book "Liège Gunmakers through their Work. 1800 - 1950".
For more detail see: LIEGE GUNMAKERS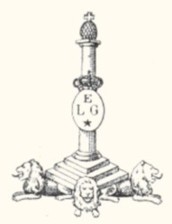 VERVIER-DELVAUX Noël (Maybe)
Caliber 8mm Lebel.
This revolver carries a reinforced round barrel to 8 sides to the place of the sight, it is about a primarily German fashion as for example the mouth with pad or quite useless safety on a revolver. The arms manufacturers of Liège manufacturers for Germany yielded with this fashion like Hubert MASEREEL for example.
It is obviously about a weapon of pocket with its folding trigger, unsuitable with a police use (or then into civil). She does not carry any lawful marking.
She carries the punches of Liege, that is to say:
Spangled ELG in a crowned oval: acceptance post 1893.
R crowned: rifled bore post 1894.
Spangled AR: countermark of the controller post 1877.
The manufacturer
Its identity could be dissimulated behind the crowned mark NV which is unknown for me.
The reading of Who's Who gives us a possibility (in time and the initial ones) to knowing VERVIER-DELVAUX, Noël arms manufacturer in Wandre, registered voter with the house of tests of Liège of 1892 to 1909 and which deposited 14 patents. Nothing however indicates with certainty if this mark is well has his.
The question thus remains open.
GG
Photos Littlegun