Some of the most beautiful work of this craftsman, and many others, are in this book "Liège Gunmakers through their Work. 1800 - 1950".
For more detail see: LIEGE GUNMAKERS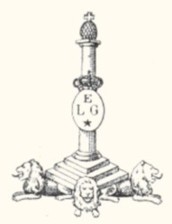 M. Vervier (Perhaps)
Revolver of pocket with rebounding hammer and central percussion, box frame, of type VELO-DOG (6mm vélodog calibre).
The long cylinder with 6 rooms is grooved.
The loading is practiced by the introduction of cartridges, one by one, by the door placed on the right side of the console.
The extraction is practiced, also casing by casing, using the metal rod swivelling on an axis placed under the barrel.
The rifled bore is with 8 sides and is provided with a front sight in half-moon.
The console is provided with a pedal of safety of the type MAUSER on the left side.
The trigger without trigger guard is articulated and folding under the console.
The plates of sticks are out of wood of walnut squared with a screw and two rivet washers out of brass.
Punches
The weapon carries the lawful punches of the proofhouse of Liege, namely:
R crowned: rifled bore, of use of 1894 to 1968.
M spangled: countermark of the controller post 1877.
Spangled ELG in a crowned oval (non visible on the photographs) should be on the internal face of the barrel. This punch is the final acceptance of the test, post 1893.
Marks
MV Bté: it is about the mark of the inventor of any improvement and which could act that is to say of:
VERVIER M., registered voter with the proofhouse of Liege of 1861 with 1876. In 1881, it deposits a patent for a carry-rod applicable to the revolvers, or of ......
VERVIER-NIZET, Michel, street Head of Ox, 13 in Liege. From 1871 to 1876, it deposits two patents for a closing for double purpose for the revolvers with top break and an assembly of parts with automatic movement applicable to rotation of the firearms with several shots.
In the absence of patents, difficult to make the share of the things.
J.G.: it is acted as any probability of initial of an arms manufacturer subcontractor who could be GUYOT J. of TREMBLER (before the war 1914).
IVI.I: in any assumption, it could be a question of a marking of "equipor".
GG