Some of the most beautiful work of this craftsman, and many others, are in this book "Liège Gunmakers through their Work. 1800 - 1950".
For more detail see: LIEGE GUNMAKERS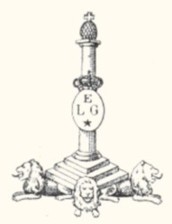 N. Vivario Plomdeur
This lot consists of two identical engraved and gold inlaid Belgian single shot percussion pistols.
The top of the rifled barrel is marked "N.VIVARIO-PLOMDEUR / ARQb DU ROI A LIEGE" inside a wire border, all inlaid in gold.
The number "1" is marked on the barrel underside and breech plug. The frame, lock plate, hammer, trigger guard and buttcap feature an extensive scroll engraving with a unique circle and arrow pattern engraving on the bolster.
The ebony grip is fluted and has a silver thumb shield. The left side of the grip near the frame is inlaid with a scroll silver wire motif. Complete with a contemporary wooden case lined in brown felt and the following accessories: double face shell design powder flask, single round cavity bullet mold marked with the number "081", and a few rounds.
Thanks to "ROCK ISLAND AUCTION" for the pictures.