Some of the most beautiful work of this craftsman, and many others, are in this book "Liège Gunmakers through their Work. 1800 - 1950".
For more detail see: LIEGE GUNMAKERS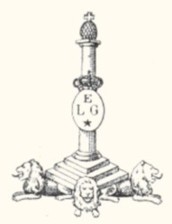 Warnant René
This rifle toy coarse imitation of rifle MAUSER to bolt was manufactured by Rene WARNANT who was registered with the proof house of Liege of 1912 to 1956.
In 1934, it took again the activity of WARNANT, Emile street Lamarck, 99 in LIEGE.
During the First World War, the occupant prohibited to the arms manufacturers of Liège to manufacture weapons. Reduced to unemployment, some of those manufactured toys and other objects intended for decoration (boxes engraved or carved inter alia)
An association, PANEM LABORE (bread by work) even was creates to come to assistance of the people without resources.
Interlaced mark RW is well the mark of Rene WARNANT and the mention PROJECTILE seems to be an advertising mention to attract the barge.
The mark FABRICATION LIEGEOISE occurs from comment.
In short, this toy is one disturbed and fortunately completed time a very interesting witness.
GG