Some of the most beautiful work of this craftsman, and many others, are in this book "Liège Gunmakers through their Work. 1800 - 1950".
For more detail see: LIEGE GUNMAKERS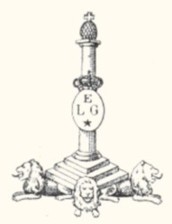 Webley Lebeau courally
The weapon
Revolver known as "of pocket" with central percussion and box frame.
The long grooved cylinder indicates that it is about a calibre 6mm VELO-DOG.
The rifled bore is round with front sight in half-moon.
The trigger is right, swell and pierced in its end where it is also squared. It's without trigger guard and is folded up in a small housing under the carcass.
The steel carcass is marbled.
The cylinder and other small parts are turned blue.
The loading is practiced by a right side door dropping thanks to the action of an internal spring.
Unloading is practiced using the metal rod which swivels on its axis and which must be introduced very with turn into each room.
A concave channel is dug in the carcass in front of the door to facilitate the entry of the cartridges in the cylinder.
The plates seem me out of squared wood, to be joined together by a transverse screw and two brass rivet washers.
Punches
The weapon carries the lawful punches of the proofhouse of Liege to knowing:
ELG on star in a crowned oval: final acceptance post 1893.
P spangled: countermark of the controller post 1877.
R crowned: rifled bore, of use of 1894 to 1968.
Marks
L crowned: this mark does not belong to the proofhouse. Its identification has resisted for several years just as C crowned. Some think that it could be a question of a mark of foundry but nothing currently comes to confirm it.
4515: serial number.
Blazon LBC: mark firm WEBLEY LEBEAU-COURALLY in Liege.
WEBLEY-LEBEAU COURALLY C° LTD LIEGE LONDON LE NOCTAMBULE (THE NIGHT BIRD) : mark company WEBLEY LEBEAU-COURALLY, 19/23 street Fond of Tawes in LIEGE. This company is registered with the proofhouse of 1902 to 1920. It is then taken again by company LEBEAU COURALLY. It exists still nowadays. See its history on the site.
GG