Some of the most beautiful work of this craftsman, and many others, are in this book "Liège Gunmakers through their Work. 1800 - 1950".
For more detail see: LIEGE GUNMAKERS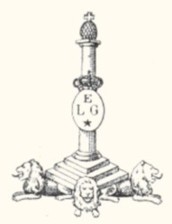 WEGRIA-CHARLIER, Alfred
HOIGNEE-CHERATTE.
1908 – 1916.
Manufactured the Wegria model, arms without trigger!!! The shooting is made by tightening the hand around the handle, inserting what seems to be a safety of handle in the back part, until the trigger is released to start the percussion. Patented in 1908 and supposed manufactured until 1914. Charlier missing during the war and the weapon was not manufactured any more.
(Regarded as very rare)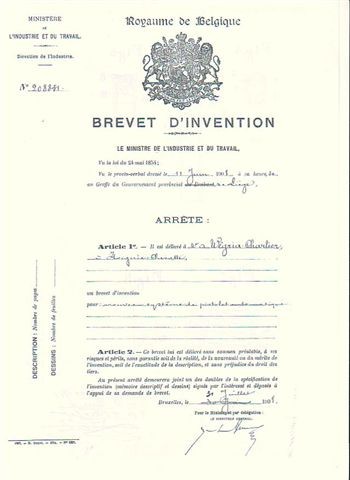 WEGRIA
This small gun of pocket gauges 6,35 of them is a semi-automatic WEGRIA with not fixed breech, with six shots plus additional by the introduction of a cartridge into the barrel.
The pedal of handle is used as trigger. This weapon although pertaining to the generation of the automatic guns whose spring recuperator is located at the top of the barrel and manufactured in an industrial way, has the effect of not having a tail of trigger even if it is provided with a trigger guard.
The percussion is ensured by the pedal located at the back of the carcass, pedals usually being used as safety. The barrel is fixed under the breech
The weapon does not carry its plates of origin out of rubber hardened with the initials S & W trying to make believe that it is about an American weapon, proceeded running at the time.
This weapon was copied by Spanish arms manufacture.
Punches
The weapon carries the punches of the proof house of Liege following:
Spangled ELG in a crowned oval: acceptance post 1893.
R crowned: rifled bore post 1894.
A spangled: countermark of the controller post 1893.
PV surmounted of a stylized lion: test with the powder without smoke, of use of 1898 to 1968.
The manufacturer
Patent 208831 was yielded to François FRERE by Alfred WEGRIA the 21.09.1909, no mark of this new owner is visible on the weapon which seems to be repolished in-depth.
The inventor
WEGRIA-CHARLIER Alfred was an arms manufacturer with HOIGNEE-CHERATTE close to Liege around 1908/1916. During this period it deposited four patents carrying all on the automatic guns.
GG