Some of the most beautiful work of this craftsman, and many others, are in this book "Liège Gunmakers through their Work. 1800 - 1950".
For more detail see: LIEGE GUNMAKERS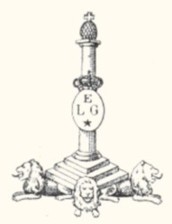 Zuliard (Or Juliard)
It is about a pocket pistol flintlock transformed with percussion of origin of Liège.
It should be of Consulate time - Empire beginning.
The barrel is striped "hair" and carries a small front sight in half-moon.
It's fixed at mounting by a key and a pin as well as a wood screw at the end of the tail of breech.
The lock is round, with the Frenchwoman.
The hammer with percussion is of form "dolphin".
The metal rod with head of nail is fixed under the barrel by a pass-rod.
The other side of the lock only consists of two worked screws.
The stick with right angle "of Liège" is squared; it is encrusted with silver wire and ends in a cap punt without decoration.
The trigger guard is always of style Louis XVI.
Markings
The lock is marked ZULIARD in LIEGE, we think that it is about arms manufacturer JULIARD, André, arms manufacturer in Liege of 1803 to 1807 (Stockel p. 603).
The barrel carries the mark EX which we cannot identify.
GG