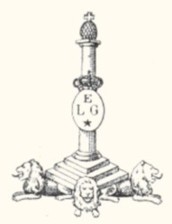 Rifle FN (Mauser) model 1916.
Punches
They are punches of the profhouse of Liege, namely:
The peron: inspection, of use of 1853 to our days.
PV surmounted of a stylized lion: test with the powder without smoke, of use of 1898 to 1968.
A spangled?? (Fuzzy Photograph): countermark of the controller post 1877.
Marks
Fabrique Nationale d'armes de guerre Herstal-Liège: marking of the FN.
AEP in a circle: mark Old establishments PIEPER street of Bayards in LIEGE (See site). These two companies often collaborated.
Tight hands: that represents seems it a handshake. Doesn't this mark appear in any file of the arms manufacturers of Liège or others? Perhaps this mark represents collaboration between the FN and the AEP but it are only one assumption.
J 3282: serial number affixed by the manufacturer.
Are the other small punches illegible, perhaps acts you it of punches of the Manufacture d'Armes de l'Etat (Manufactory of the State)??
GG
The 2 hands are a symbol for Argentina, the bolt is thus for a South American rifle; that happens regularly to find these bolts on Belgian weapons because they are much more current like spare parts.
Friendly,
Kristof