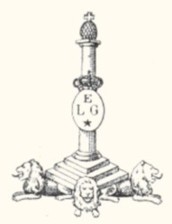 A. Fagnus et Cie
This weapon allotted a long time to French Maquaire is actually a revolver manufactured by house FAGNUS established in Liege street Jonruelle, 21.
This revolver was often evoked on our pages, not is thus need to return there.
This revolver seems in very good state.
It is covered with an engraving of foliage in hollow bottom of the most beautiful effect.
Marking C&D in an oval is always unknown, one day perhaps we will discover his origin.
The punches of tests of Liège indicate a manufacture between 1877 and 1893.
GG
In a last identification it was suggested that perhaps it could be a question of Coquilhat & Digneffe!
With all reserves, without any certainty!!
http://www.littlegun.be/ma_collection/be%20abcde/a%20be%20coquilhat%20et%20digneffe%20v%20gb.htm
Perhaps manufacturer of a part, the carcass?
Alain