Some of the most beautiful work of this craftsman, and many others, are in this book "Liège Gunmakers through their Work. 1800 - 1950".
For more detail see: LIEGE GUNMAKERS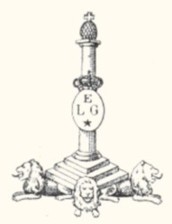 MEYERS-COUNE Henri
It is most probably about a pistol of hunting and/or poaching with top break of type Flobert.
The weapon yields into two thanks to the action of the key snake placed on the right side (see extracted catalogue RAICK in appendix).
The barrel with eight sides smooth is thus reserved for the shooting with leads!
The gauge is 12 mm as the punch of the proofhouse announces it (see below).
The plates are out of wood (of drowning?) joined together by a transverse screw and two rivet washers.
The weapon carries the punches of the proofhouse of Liege, namely:
Spangled ELG in a crowned oval: final acceptance post 1893.
Peron: inspection post 1853.
R spangled: countermark of the controller post 1877.
12M C in a rhombus on point: gauge 12 mm, of use of 1898 to 1924.
In addition, the weapon carries the mark of MEYERS-COUNE Henri, manufacturer of weapons with CHERATTE (Liege).
In 1913, the interested party deposits two Belgian patents for an automatic system of gun per deflagration of gas combining the retreat in three places and with movement of opposite trigger as well as a new device applicable to the weapons automatic.
This patent does not have, obviously, anything to see with your weapon!
It is impossible to say in which quantity this type of weapon was manufactured, but probably the thousands because they are a standard model with sometimes of the not very important differences. This weapon was manufactured between 1898 and 1924.
GG