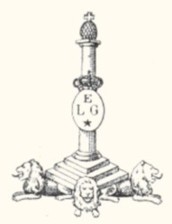 Collette V.
The weapon
It is about a revolver pinfire LEFAUCHEUX-COLLETTE with open frame.
The system is with double action.
The rifled bore is with eight sides with raised triangular front sight and grooves dug (bead) in the peak of the hammer.
The smooth cylinder is with 6 rooms of gauge 7mm.
The trigger without trigger guard is curved and smooth.
The metal rod slides in a guide integrated into the console and is maintained by a small leaf spring.
The loading is practiced by the right side door raising itself thanks to the action of an internal spring.
The stick consists of a metal mounting on which two wood plates (walnut) squared maintained by a through screw rest and two engraved rivet washers.
The weapon carries an engraving of the type Louis XV (shells).
Punches
This weapon carries the lawful punches of the proofhouse of Liege, namely:
ELG on star in an oval vertical: final acceptance, of use of 1846 to 1893.
N crowned: countermark of the controller of use of 1853 to 1877.
Markings
LEFAUCHEUX INV. BREVETEE: this mark indicates that it is about a weapon invented by Eugene Lefaucheux (see the site).
V. COLETTE LIEGE: marking of the manufacturer Victor COLETTE in Liege (see site).
52290: serial number.
GG