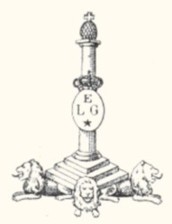 Victor Collette
Revolver of the type LEFAUCHEUX, pinfire and open frame. Calibre 9mm.
The barrel is with eight sides with front sight raised to correspond with the bead of the hammer when this one with is armed!!
The cylinder with 6 chambers is not grooved and is engraved floral reasons just like the carcass and the other accessories.
The armament is practiced by a side door, placed on the right side of the weapon. It drops thanks to the action of an internal spring.
The rod slides in a guide integrated into the console and is maintained by a small leaf spring.
The weapon carries the punches of the proofhouse of Liege, namely:
ELG on star in an oval: final acceptance, of use of 1846 to 1893.
N crowned: countermark of the controller, of use of 1853 to 1877.
The weapon also carries markings of the manufacturer, namely:
V.COLLETTE LIEGE: mark of the manufacturer COLETTE Victor in Liege. Registered at the proofhouse of 1857 to 1861 but its working life is much longer.
He is the author of 2 patents for an addition with the system of firearm and an envelope barrel suitable for the manufacture and the transformation of the portable weapons.
VC: it is also about a mark of this one.
HM: marks unknown, probably a subcontractor?
Appendix: copy of a sketch of revolver V.COLLETTE. This sketch relates to a revolver of the Lefaucheux type but with removable shield, which is not the case of the shown weapon.
This weapon is not marked any of a possible patent, it thus acts of an adapted copy of the revolver of Eugene Lefaucheux.
GG