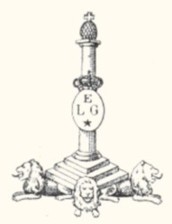 Peperbox Deprez
Deprez pepperbox pinfire in box
Caliber 7 mm pinfire.
Six shots, overall length 130 mm.
Belgian punch ELG and NR crowned. With before on the small crank, the mention "Deprez/bté". The weapon functions, like the majority of the pepperbox of this kind, only in double action.
All the metal parts are bronzed brown very dark, almost black.
The unit is decorated with incrustations and inlays in silver and gold. The hammer and the trigger are polished white.
The grips are out of ivory (?) polished in form very round with a light angle in the higher part in order to give an ideal catch hand. At the end of the grips is screwed the rod of extraction of the drawn cases.
The box comprises in gates envisaged to this use a series of ammunition with pin of the corresponding caliber.
This cassette, although it is not certain that it is of origin is extremely well finished and covered with green velvet of a beautiful effect. The edge of the print of the weapon is hemmed.
Alain
Peperbox DEPREZ
It is indeed about a pepperbox pinfire marked DEPREZ Brevetée.
It consists of block-barrels grooved of calibre 7mm fixed on the central axis aimed in the shield and actuated using the lever crank placed at the mouth of the barrels.
This central axis can also be used as rod of unloading.
The barrels carry the many ones and fine stripes of round form and not very deep so called "stripes hair". The hollows are of the same width than the relief's and divided into great number (from 44 to 48) in a barrel, giving a "corrugated" aspect to its heart.
They were employed end of the XVIIIe century in the middle of the XIXe century, mainly for guns to which they gave a very precise shooting. Thanks to their low depth, the forcing of the ball was done without note-book and generally under the only pressure of the rod. Moreover, they had only little tendency to clog lead.
But, having to be dug with one, their execution was long and expensive, from where a cost price which limited their diffusion. As, one does not find them as on weapons of quality, sometimes of pocket (like the pepperbox) but more often of duel or officer.
Trigger is of the folding type to facilitate the setting out of pocket without fixing.
The grips with palmettos in drowning are finely squared and joined together by a through screw and two rivet washers.
The weapon carries the punches of the proof house of Liege, far from visible, curiously transversely in the veins between the barrels, namely:
Spangled ELG in an oval: final acceptance, of use of 1846 to 1893.
G crowned: countermark of the controller of use of 1853 to 1877.
It also carries number 12 (serial number?)
GG