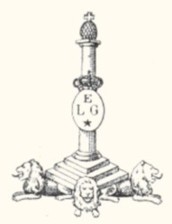 N. J. DESSARD
It seems to me that it is N. J. DESSARD with D which one sees on the revolver, undoubtedly Nicolas Joseph Dessard, indexed with other DessarD and DessarT in "Who's who" by our friends Guy and Michel.
I had this very beautiful weapon in hands, it is of excellent quality. You will notice the air of family with Counet, of which it regains the general shape, the system of closing and the phases of ejection.
Have regard to the model of the weapon, I choose NJ Dessard wire (1871-1873), which precisely patented modifications with the collective extractors of revolvers.
Marcel