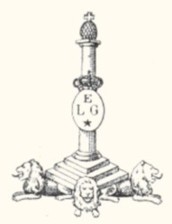 Henrion, Dassy & Heuschen
Traditional revolver of the type CONSTABULARY of Liège also called "Revolver of factor", precisely because of the safety of cylinder.
It is acted in fact of a barring lever of the cylinder fixed on a screw-pivot located just at the top of the part before trigger guard. With the back the arm ends in a flat tint rubbing on a stop, which makes it possible to place it in low position.
In this manner the hook can enter one of the rooms, making thus impossible the rotation of the cylinder. Statement in high position, the hook releases the room.
The presence awkward of this "safety stopping the cylinder" is justified only by the rule of the post of the time obliging a loading with blank for the first two shots. It was the same besides for the prison warders equipped with revolver NAGANT for prison warders with the same system.
The lock is with rebounding hammer, the barrel is octagonal with sight in half-moon.
The cylinder is full (not grooved).
Does the stick comprise two plates (in drowning?) squared and joined together by a cross screw and two rivet washers. It ends in a metal ring.
The rod swivels on an axis for the introduction into the cylinder and the removal of the casings.
The loading is practiced by a side door dropping to the action of an internal spring.
The weapon carries the punches of the bench of tests of Liege following:
Spangled ELG in a crowned oval: acceptance post 1893.
R spangled: countermark of the controller post 1877.
R crowned: rifled bore, of use of 1894 to 1968.
L crowned: mark not belonging to the bench of tests and that we think of belonging to the founder of barrel but it is only one assumption.
Other markings
H.D.H.: on the amount of stick, the marking of company HENRION, DASSY & HEUSCHEN, 8 street of the Meadows in Liege (see site)
L crowned: mark unknown but that we think of belonging to the founder of barrel but it is only one assumption.
2 overlapping triangles?? or A inside a triangle with the top of 1535: mark unknown and far from readable, perhaps it belongs to HDH but it is the first time that it is announced to me. Could the mark 1535 be a job number?
JI Patented (read so well?): in uncertainty, I declare that this mark is unknown for me.
GG
I unfortunately do not have anything final with regard to the patent.
A certain JASPAR Jean, of Liege, (the initial ones correspond…) deposited several patents concerning of safeties of revolvers in the years 1908, 1909, 1911. I have unfortunately the copy only one of these patents, insufficient to obtain a certainty.
You know the refrain: patience!
As for A in a triangle, I think that the proposal of a mark of attribution to an administration should be most plausible (the army using of the circles and the squares).
Michel