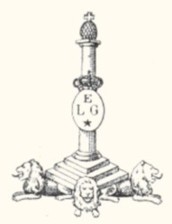 Leclercq J.
Pistol of shooting or stand with crack.
The calibre is 6 mm Flobert to annular percussion (rim fire)
The barrel with 8 sides would be smooth.
It carries small bodies of aiming (front sight - bead)
The trigger is under trigger guard with rest-finger.
The lever placed in front of the trigger guard is used for rocking of the gun for the loading/unloading.
The stick banana out of wooden of drowning squared.
It is maintained by two wood screws fixed in the supports higher and lower.
Punches
The weapon carries the punches of the proofhouse of Liege, namely:
ELG on star in an oval: final acceptance, of use of 1846 to 1893.
X under star: countermark of the controller post 1877.
The weapon was thus manufactured between 1877 and 1893.
Marks
J. LECLERCQ BREVETE (PATENTS): this mark is that of inventor LECLERCQ Joseph, arms manufacturer with Saint-Rémy (province of Liege). He deposited two Belgian patents of 1859 to 1886, relating to a system of barrel with rocker taking care by the breech with cartouche Lefaucheux and a closing adapted under the barrel of the weapons to fire. With share the ammunition with pin, but the evolution is very possible, that corresponds well to the description of your weapon.
AS crowned or spangled???: Marking of the manufacturer who could is to correspond to Albert SIMONIS (BE 1873/1900) street Trappé, 18-20 in Liege or SPIRLET Albert quay of Boverie, 31 in Liege (1860/1876)
9569: could be a job number.
GG