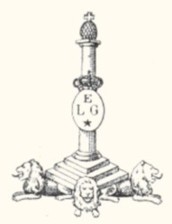 Mercenier G.
Dieudonne Levaux was essentially an inventor while others like Mercenier were gun makers. It is faire to say that Mercenier was nearest to Levaux because he lived in the same area of Blegny-Trembleur.
It was him who had assured one part of the production and the other famous armorers finished the Levaux revolvers and they signed it in their names.
Others like Scholberg and Gadet of Liege were modified in the same way, who manufactured the gun with a pivoting covering plate.
For the Danish models, this country had adopted a Levaux revolver for their marines in 1891 made by Rongé.
GG
G. Mercenier
Antique status British retailed Belgian revolver made by G. Mercenier though inscribed on to barrel flat, "William Clark, Maker, Patronized by HRH the Prince of Wales".
In reality, Clark was the most prolific retailer to claim guns were "made" by him, when it is doubtful he ever manufactured a firearm.
The gun has all British proofs.
The .455 model is often offered for sale, this .380 model was bought by few officers as they preferred a "man stopper". This calibre was offered to those officers who did not intend to be in the front lines and did not want a high heavy metal lump on their person but some gun if needed.
Condition of this example is Fine with all original parts, nice smooth and tight action, extractor ring plate functions correctly and bore is very nice with all rifling and smooth surfaces.
By the way, the odd looking "top hammer" is actually the release lever for breaking open the frame to eject and reload.
Alain
The weapon
It is about a revolver LEVAUX Dieudonné top break.
The weapon opens using the pedal placed at the top of the hammer.
The opening actuates the rise of the axis of the cylinder and the disc of collective extraction.
The cylinder is smooth and with 6 rooms, gauges .380.
The barrel with eight sides is equipped with a semicircular back sight.
The stick consists of two plates out of wooden of drowning squared and a metal cap with ring of suspension.
Punches
The weapon carries the punches of Birmingham. It was thus exported without passing by the proofhouse of Liège!
The inventor
It is about LEVAUX-STAS Dieudonné, manufacturer of weapons with Blegny Trembleur which deposited 11 Belgian patents during time 1870/1888.
The manufacturer
The metal amount of stick carries mark G.MERCENIER pertaining to Gerard MERCENIER arms manufacturer in Blegny Trembleur, street of Trembler, 25. He is also an agent in 1881, of a patent n° 55.077 for a revolver system MERCENIER with system with extractor independent of the gun.
10.623: is a job number but quite malignant which could say to what a number the series with started!
Another marking
The mark William Clark Maker/Patronized by HRH the Prince off Wales, belongs to the English retailer of this weapon.
GG