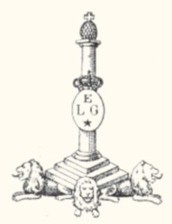 Jacques Ancion & Cie
The weapon
Revolver of pocket, with central percussion and box frame of type "BULL DOG";
The entirety of the weapon is nickelled.
The short barrel round is provided with a front sight in half-moon. It is striped.
The cylinder is smooth and comprises 6 rooms of calibre320.
The loading is practiced by the right side door dropping thanks to the action of an internal spring.
Unloading is practiced thanks to the action of the rod swivelling on an axis.
The lock is with rebounding hammer.
The carcass carries a safety of the Mauser type on its left side.
The plates out of wooden of walnut squared are finely joined together by a screw and two rivet washers.
Punches
ELG on star in a crowned oval: final acceptance post 1893.
A spangled: countermark of the controller post 1877.
R crowned; rifled bore, of use of 1894 to 1968.
Marks
JA & C crowned: this mark is not included in documentation. In any assumption, this mark could be that of Jacques ANCION & C° known by the deposit of two patents arms manufacturers into 1887/1888.
GG