Some of the most beautiful work of this craftsman, and many others, are in this book "Liège Gunmakers through their Work. 1800 - 1950".
For more detail see: LIEGE GUNMAKERS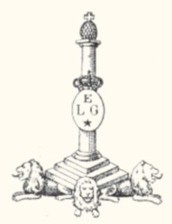 Léopold ANCION-MARX
It is a 16 calibre pinfire rifle, with a single shot, with a double key called Lefaucheux (opening and fixing of the barrel) with a folding bayonet. English crosse, eight-sided barrel and round.
The markings
J under star: countermark of the controller since 1877
U under starlight: Controller countermark since 1877
Peron (several times): inspection since 1853
16 on C in vertical diamond: calibre of the weapon between 1898 and 1924
17. 0: in principle the diameter of the barrel in mm. A 16 calibre is "normally" a 16. 8 mm, a figure that decreases with the impact. So little mystery.....
ELG on star in crowned oval: accepted between 1893 and 1968
EL: provisional proof since 1852
LAM: Leopold Ancion Marx
NC: unknown
The weapon is listed (in particular? ) in the 1909 catalogue of the Liège firm Léopold Ancion Marx (active between 1890 and 1979) as a weapon guard-hunting.
GP