Some of the most beautiful work of this craftsman, and many others, are in this book "Liège Gunmakers through their Work. 1800 - 1950".
For more detail see: LIEGE GUNMAKERS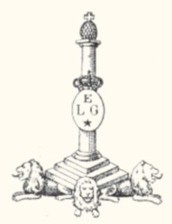 Léopold ANCION-MARX
This is a 2-barrel from the manufacturer Ancion-Marx Léopold rue Grandgagnage, 28 at Liège. This is a true copy of the Gendarmerie pistol from the Liège manufacturer Nagant.
The weapon bears the statutory hallmarks of the Liège proofhouse, namely:
- ELG* in a crowned oval: definitive acceptance, in use from 1893 to 1968.
- Peron: inspection, in use from 1853 to the present day.
- S*: controller's countermark, in use from 1877 to 1968.
- Crowned R: striped cannons, in use from 1894 to 1968.
The weapon also bears the following markings:
- 1238: serial number of the gun.
- CAL 380: calibre of the weapon. Size 38 short or 9 mm.
- LAM: this is the trademark of Léopold Ancion Marx. The firm was on the proofhouse from 1890 to 1935.
GG