Some of the most beautiful work of this craftsman, and many others, are in this book "Liège Gunmakers through their Work. 1800 - 1950".
For more detail see: LIEGE GUNMAKERS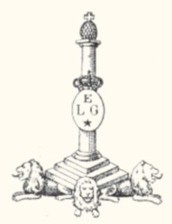 Ateliers Saint Laurent
The weapon
Traditional revolver of pocket, hammerless of the type "velo-dog" of gauge 5,5 mm, frame closed and central percussion.
It is visible (very unobtrusive punches) that the weapon underwent an energetic cleaning, a re-bronzing and probably the gilding of the small parts to give a beautiful aspect to the resale.
The trigger without trigger guard is folding under the carcass.
The button gilded on the left side is a safety.
The loading is traditional by the door opening thanks to the action of an internal spring.
The unloading of the casings is practiced thanks to the action of the rod swivelling on an axis.
Punches
Although they are partially erased, I could recognize the punches of tests of Liège, namely:
- ELG on star in an oval under crown: acceptance post 1893.
- C under star: countermark of the controller post 1877.
Marks
ATELIERS SAINT LAURENT: manufacture of weapons patented in all kind, street SAINT LAURENT 45 in LIEGE (about 1930)
A ST L in a cartouche: mark this firm.
Appendix: store of the SAINT LAURENT Workshops photographs.
GG