Some of the most beautiful work of this craftsman, and many others, are in this book "Liège Gunmakers through their Work. 1800 - 1950".
For more detail see: LIEGE GUNMAKERS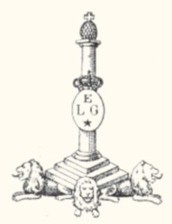 Bayet Frères
Here is an interesting uncommon revolver with central percussion, whose mechanism is easily accessible without tools, marked Bayet Frères Breveté. Folding trigger.
I saw only one punch, ELG on star in oval, that is acceptance between 1846 and 1893.
Bayet Frères has already been the subject of several notices on the site.
Between 1862 and 1876, they filed several patents.
At first, I thought that the gun presented here belonged to patent 032 413 dated April 17, 1873, but when comparing the gun to the patent in question, there are differences (tipping point of the handle, etc. ). Of course, the principle is broadly the same. Nor do I claim to have ALL the patents of Brothers Bayet, V and Jules, registered in the Test bench of Liège between 1860 and 1881.
GP with the help of HPH