Some of the most beautiful work of this craftsman, and many others, are in this book "Liège Gunmakers through their Work. 1800 - 1950".
For more detail see: LIEGE GUNMAKERS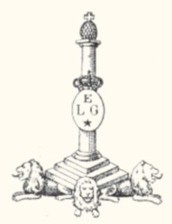 Bischop Pierre
It is a rifle with two superimposed guns, one 6 mm is striped and the other 9 mm is smooth. The pontet is volute and the walnut gun stock to cheek. The turntable is of the Warnant type.
The weapon bears the statutory hallmarks of the Liège test bench, namely:
ELG * in a crowned oval: definitive acceptance, in use from 1893 to 1968.
R crowned: striped guns, in use from 1894 to 1968.
Perron: inspection in use from 1853 to the present day.
AL*: Controller's countermark, in use from 1877 to 1968.
The gun also bears several trademarks:
PB in a lying oval (on the barrel): It is probably a brand of gun maker but it is not included in the documentation! Maybe Pierre Bischop.
Unidentified animal and letters B. W. in a shield: brand never seen in the Liège markings. In my humble opinion, this is the brand of a foreign dealer.
GG
Note the ingenious device of the hammer for the percussion of only one of the barels at a time.
Alain