Some of the most beautiful work of this craftsman, and many others, are in this book "Liège Gunmakers through their Work. 1800 - 1950".
For more detail see: LIEGE GUNMAKERS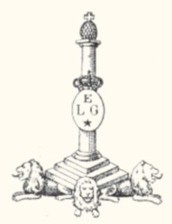 Jules Bury
The weapon
It is about a revolver with "tip up" way S&W with central percussion.
The cylinder with 6 rooms is smooth.
The barrel is with sides with back sight in half-moon.
The stick in the pear shape consists of two squared plates maintained by a screw and two rivet washers with ears.
Punches
The weapon carries the punches of the proofhouse of Liege, namely:
ELG on star in a vertical oval: final acceptance, of use of 1846 to 1893.
L spangled: countermark of the controller post 1877.
Period of manufacture.
This weapon was manufactured between 1877 and 1893.
Marks
JB in a circle: it is about a mark of the manufacturer of weapons Jules BURY, Lemonnier passage, 11 in Liege since 1848.
7 on the carcass and the barrel: serial number.
GG