Some of the most beautiful work of this craftsman, and many others, are in this book "Liège Gunmakers through their Work. 1800 - 1950".
For more detail see: LIEGE GUNMAKERS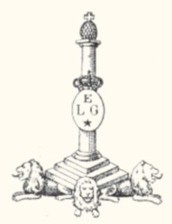 Louis Christophe
It is about a revolver without collective extractor, with central percussion and closed frame.
The rifled bore is with eight sides with top sight in half-moon. Gauges it rather important could be of the 12 mm or the 45/450.
The cylinder with 6 chambers is grooved and is dismounted by removing the central axis.
The door of loading opens backwards (kind ABADIE) but this one has like characteristic only to give access to the chambers and it is quite regrettable.
Unloading is done with the rod, casing by casing.
The photographs illustrate the guide system rod fixed at the frame by the screw lower and swivelling on this one, while the rod with knurled cylindrical head itself slides on the master key rod superior.
The rod in itself is maintained seems to me it by a spring leaf bent fixed by a screw at the guide rod.
The hammer is half hidden by the elevated carcass. (Semi hammerless?)
I named this system "semi hammerless" in the absence of another adequate term.
Indeed the hammer is only partially dissimulated and only the peak is visible.
The lock is with simple and double action.
A safety of the Mauser type is placed on the left side.
The stick is in the pear shape, it ends in a ring of cap.
The ebony plates are nicely squared way diamond.
They are joined together by a transverse screw and two rivet washers.
The weapon carries the punches of the proofhouse of Liege, namely:
ELG on star in a crowned oval: acceptance post 1893.
C under star: countermark of the controller post 1877.
R crowned: rifled bore, of use of 1894 to 1968.
L crowned: it is not a question of a punch of tests; it could act of a mark of the founder of cylinder.
15: could be a serial number.
Mark L.CHRISTOPHE BRUXELLES struck the higher side of the frame belongs to Louis CHRISTOPHE, mechanical engineer in Liege street Agimont, 12 in Liege.
It is patentee 11 deposited in Belgium of 1863 to 1885 in particular for systems of machines to manufacture the barrels.
TAYLERSON presents it like a "mechanic" of Brussels, applicant associated with MONTIGNY L. of an English patent Pat. 3553/1867 concerning a battery machine-gun able to draw from the flights of large buckshot's, i.e. the main patent of machine-gun MONTIGNY.
Doesn't the invention of this revolver appear in its list of patent, it is thus possible that L. CHRISTOPHE is only the retailer!?
GG